Thrift Shop Chef:
Recipe – Bacon-Wrapped Scallops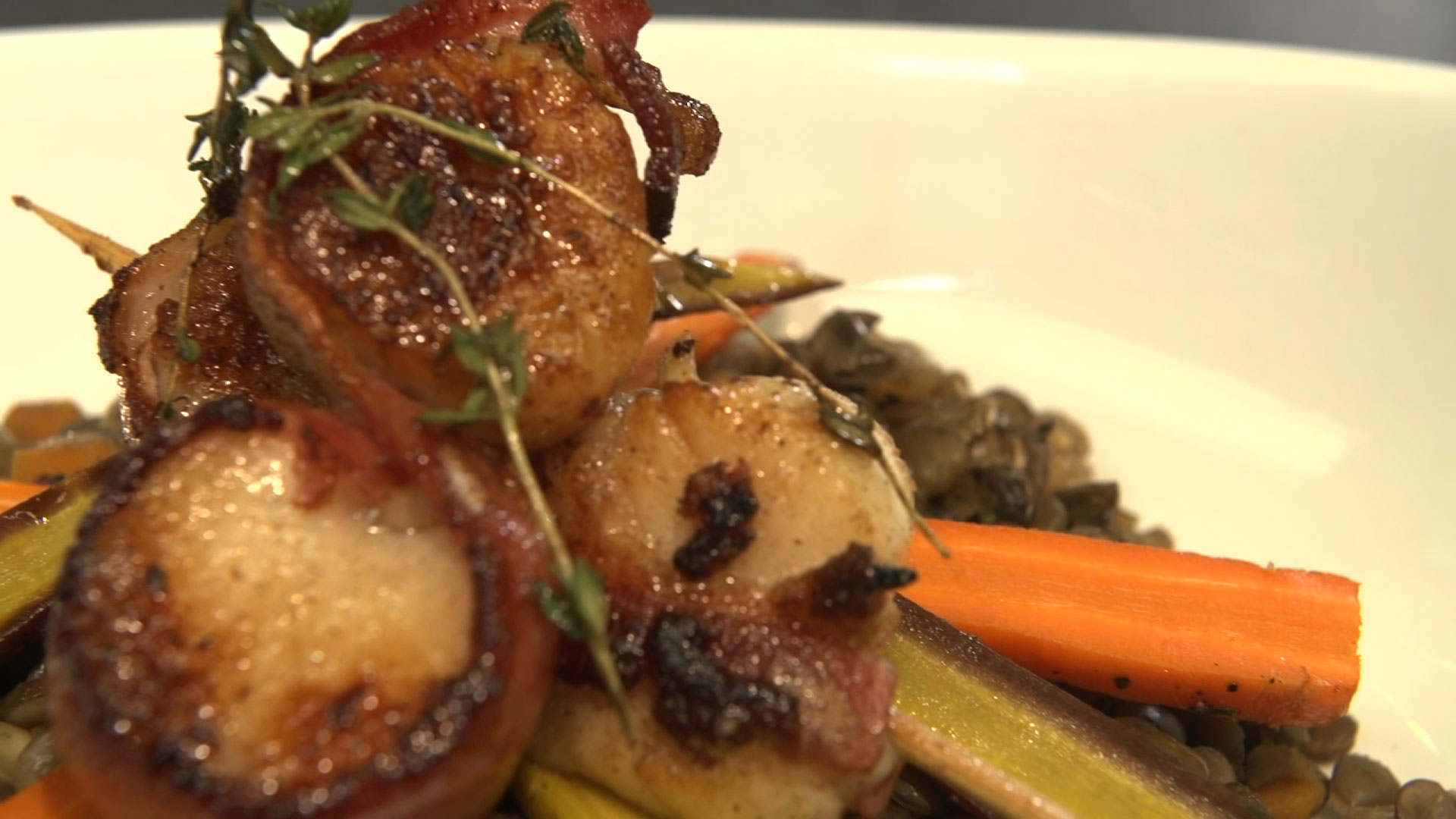 Bacon-Wrapped Scallops with Braised Lentils and Baked Multi-Color Carrots
Braised Lentils
Ingredients
2 cups lentils
2 large carrots
1 Spanish onion
olive oil
1 qt salted chicken stock
2 tablespoons of red wine vinegar
Salt and pepper
Preparation
Dice your onions and carrots and place in a cast iron pan over medium heat. Add olive oil to coat.
Once vegetables start to sweat, add red wine vinegar (be careful, this will create some steam!).
Add lentils and stir to coat.
Add chicken broth and let simmer.
Let simmer for 10 minutes, letting the lentils absorb the liquid.
Taste to check seasoning and add salt and pepper as needed. If not all liquid is absorbed, allow to simmer for a few more minutes.
Bacon-Wrapped Scallops
Ingredients
4 large scallops
¼ lb. thick cut bacon
1 stick butter
6 cloves of garlic
3 sprigs of thyme
2 skewers
Preparation
Slice the edges of the bacon, length-wise, so that it's width is the same as your scallops.
Take a skewer and pierce the end of a piece of bacon, followed by a scallop, then wrap the bacon around that scallop. Add your second scallop and use the remaining length of the bacon to wrap around that scallop, forming a figure-8 pattern. Tuck the end flap of bacon in between the two scallops to keep it secure.
Warm a cast iron pan over high heat for 1 minute.
Place your skewered scallops into the pan, with one of the bacon sides down, so that the bacon's fat renders out.
After five minutes, turn the skewers to the opposite bacon side to continue rendering. Only flip when the bacon comes free easily. If it sticks to the pan, the fat is still rendering.
Cook for another 5 minutes, then turn so the scallops are face down in the pan.
Cook for 5 minutes then flip again to the opposite side of the scallops. Add a tablespoon of butter to your pan along with a few sprigs of thyme. Rotate the pan to allow the butter to coat the entire pan, then tilt the pan so the butter pools. Using a spoon, scoop some butter onto the top of your scallops to further brown them.
Once all sides are browned, remove from pan and serve.
Multi-Colored Carrots
Ingredients
8 miniature multi-colored carrots
3 sprigs of thyme, finely chopped
Salt and pepper
Olive oil
Preparation
Preheat your oven to 350 degrees.
Peel your carrots to remove the outermost layer of skin.
Bring a pot of water to boil. Once boiling, add your carrots for 5 minutes. When your timer goes off, immediately submerge the carrots in an ice water bath to stop cooking.
Toss your carrots with olive oil, salt and pepper, in an oven-proof pan. Place in oven for 15 minutes.
Remove from oven and allow to cool for 5 minutes. Then slice your carrots length-wise and serve.
More Episodes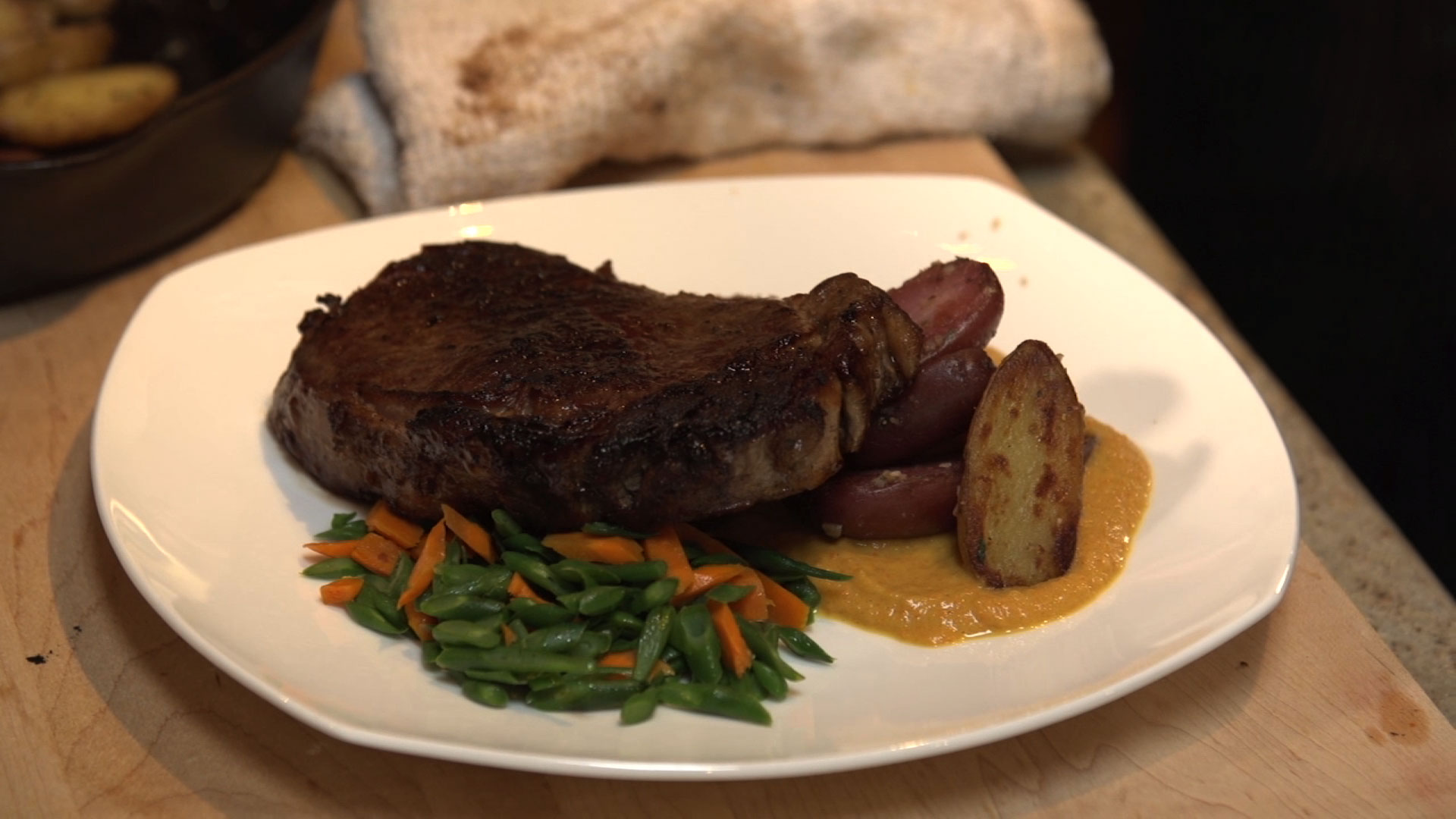 Thrift Shop Chef
Ribeye Steak with Vegetable Medley, Roasted Fingerling Potatoes and Brown Butter Purée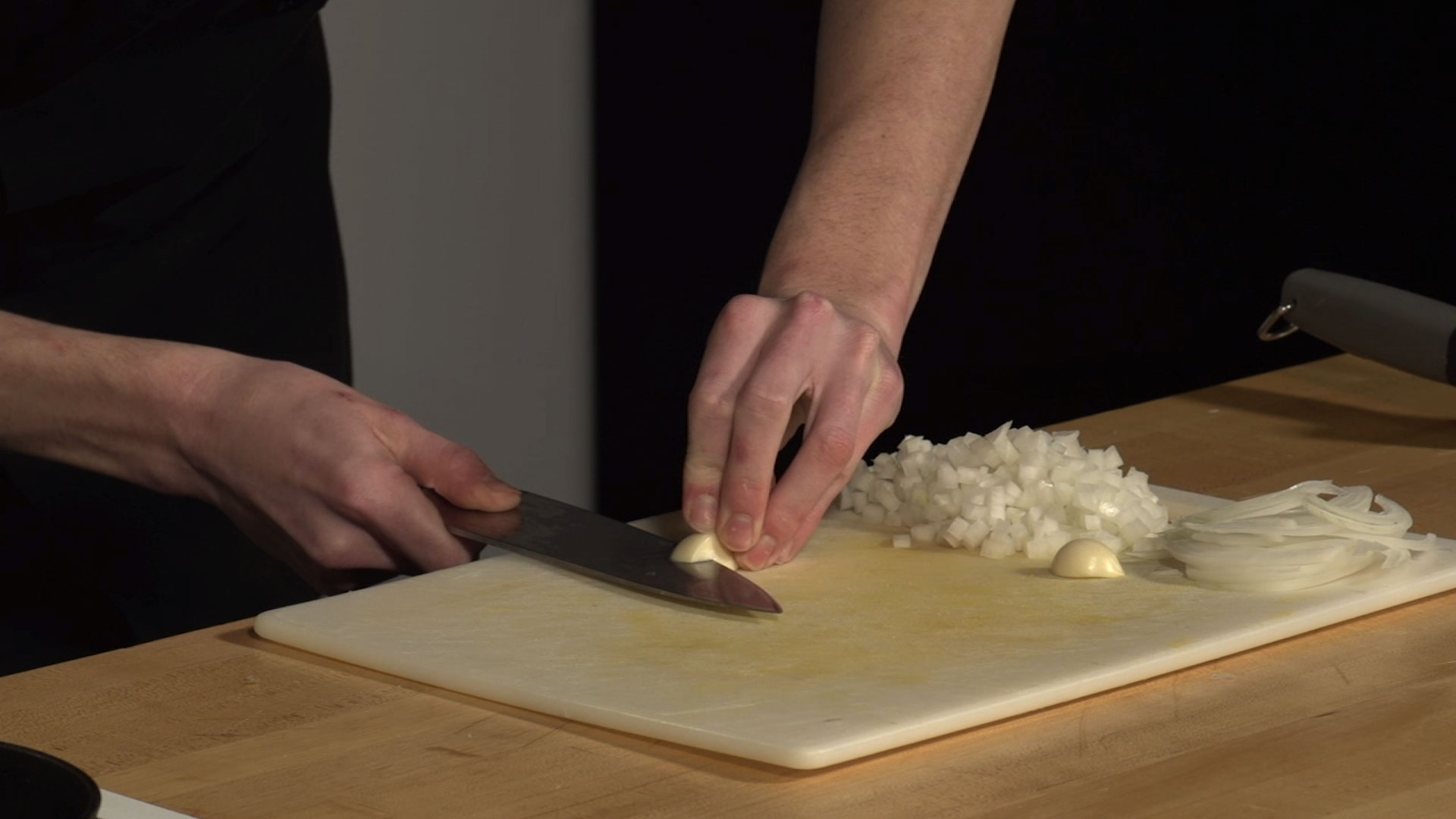 Thrift Shop Chef
Satchel demonstrates how to mince garlic.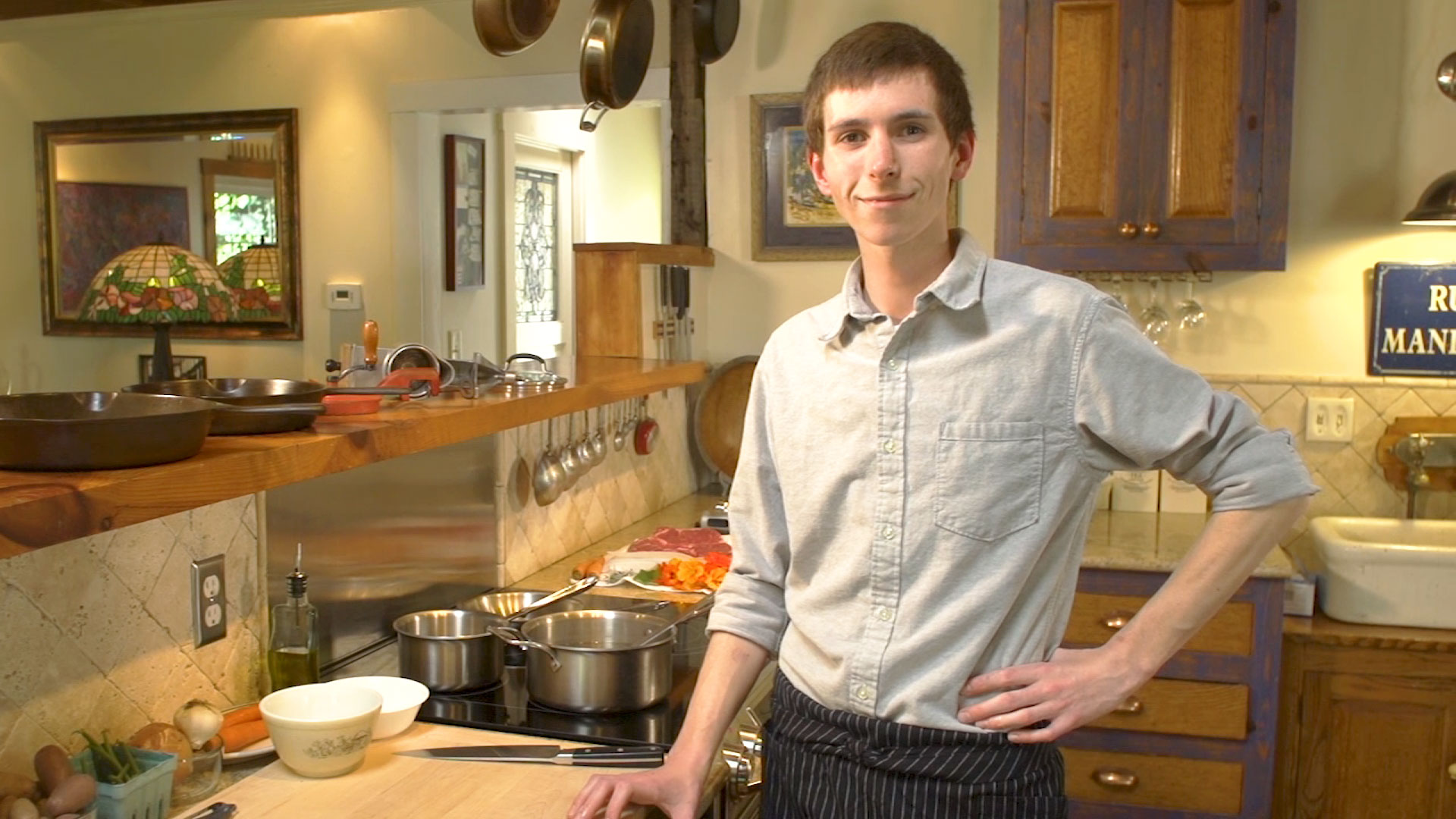 Thrift Shop Chef
In the pilot episode Satchel explores the wonders of cast iron pans, serving up rib eye steaks and bacon-wrapped scallops!
More from Thrift Shop Chef »