Visit WPSU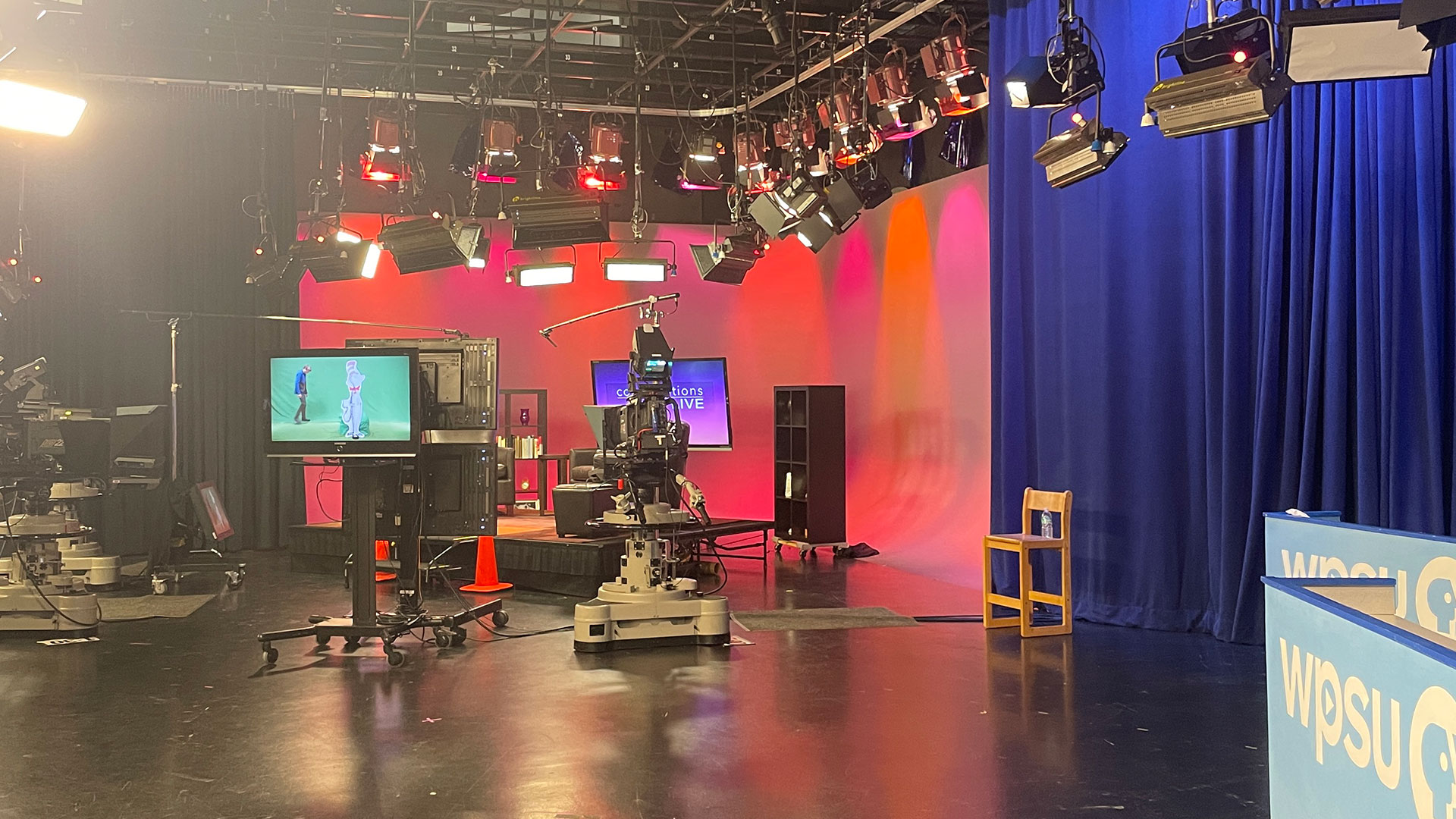 We welcome groups big and small to WPSU studios! We offer guided group visits, best suited for adults, and interactive field trips for student groups.
Group Visits
Contact Brooke Greybush to schedule your guided group visit. We recommend reaching out at least two weeks in advance to schedule your tour.
Student Field Trips
Have you ever wondered how your favorite PBS shows make it to your television or how you hear those great NPR programs on your radio? Join us at WPSU studios to explore our television and radio production studios. Here you will learn about the different people, places, and tools used to create and broadcast television and radio programs. Our education team will show you and your students around the studio and you will get to experience some of the daily work of our employees. This educational trip will show students many career possibilities in radio and video production as well as showcase some examples of the valuable uses of STEM in the world.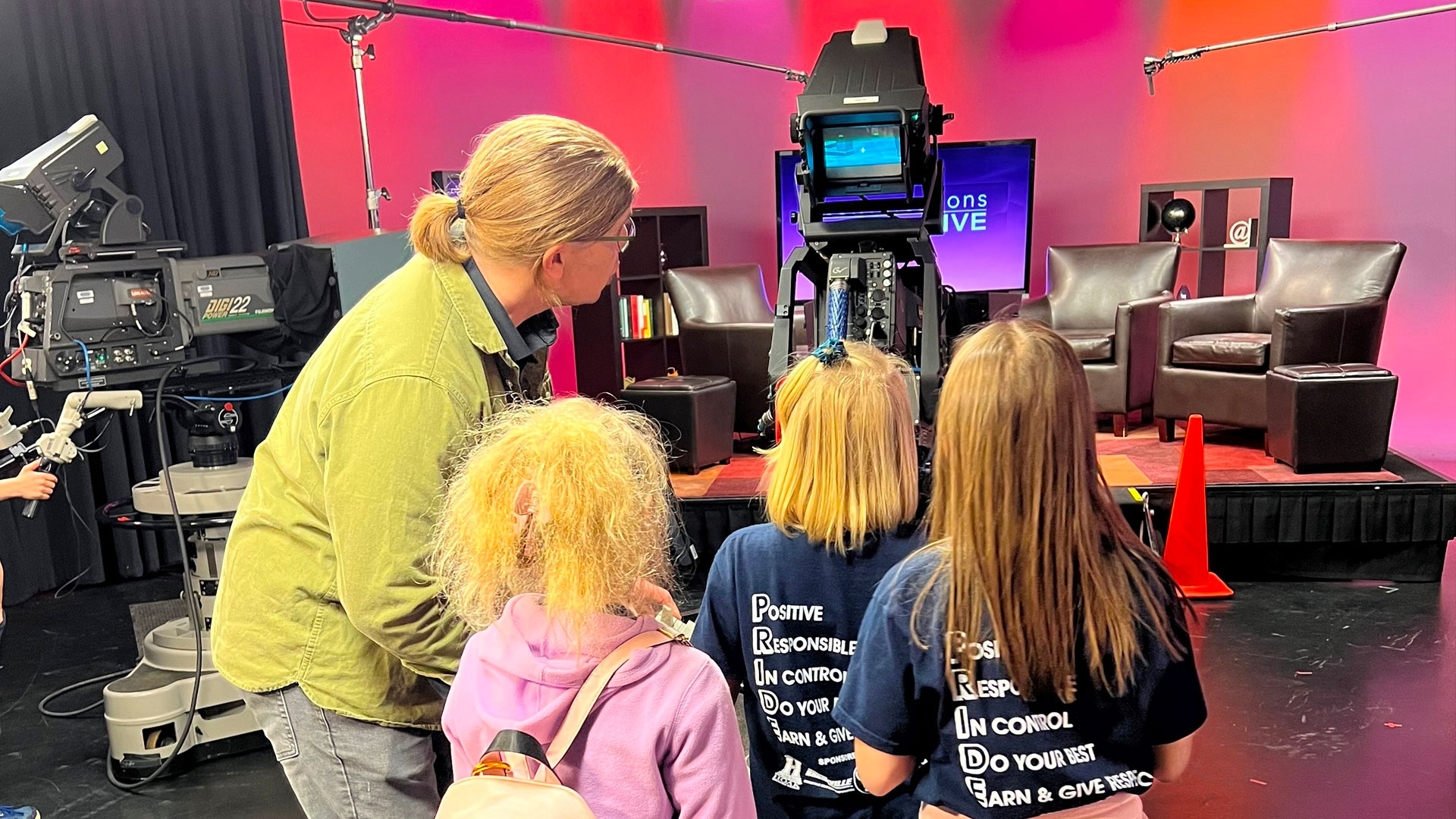 Field trip tours can be scheduled for up to 90 students. If you would like to bring more students, contact education@wpsu.org to schedule.
Schools are responsible for transportation, there is no cost to attend the WPSU Studios Field Trip.
Available dates for the 2023 – 2024 school year are included in the registration form below. If the dates listed do not work for you, we will consider alternative suggested dates, however we cannot guarantee we can accommodate other dates.
Register Your Group
Please allow 72 hours for someone from the Education team to follow up with you. If you haven't received a response or have any questions, feel free to email education@wpsu.org or call 814-863-6223.
Field Trip Policy
The Pennsylvania State University is committed to providing a safe environment for all minors participating in activities offered at the University.  All Penn State youth programs have policies in place to ensure the safety of youth participating in our programs and to ensure safety is not compromised; we expect that outside organizations bringing minors to our campus meet or exceed the applicable University policies.
Outside Organizations who are visiting campus must comply with all relevant aspects of University Policy AD-39 MINORS INVOLVED IN UNIVERSITY-SPONSORED PROGRAMS OR PROGRAMS HELD AT THE UNIVERSITY AND / OR HOUSED IN UNIVERSITY FACILITIES.
The following requirements must be met by the sponsoring organization:
All individuals that interact with, supervise, chaperone or otherwise oversee minors must be in compliance with relevant background clearance requirements for interacting with children in Pennsylvania.
A procedure to notify the minor's parent/legal guardian in case of an emergency, including medical or behavioral problems, natural disasters, or other significant program disruptions must be established.   Authorized Adults with the program, as well as participants and their parents/legal guardians, must be advised of this procedure in writing prior to the participation of the minors in the program.
Provide information to parent or legal guardian detailing the manner in which the participant can be contacted during the program.
No 1:1 contact with minors is permitted.  A minimum of 2 adult chaperones from the organization must be present at all times, regardless of the number of minors present, and appropriate ratios of adults to minors must be maintained as outlined below.
One adult chaperone for every six participants ages 4 and 5
One adult chaperone for every eight participants ages 6 to 8
One adult chaperone for every ten participants ages 9 to 14
One adult chaperone for every twelve participants ages 15 to 17
In the event of an emergency, it is expected that groups will execute their prescribed internal policies concerning safety, and medical and special needs.
We are happy to connect you with our Penn State museums and partners that can enrich your visit. On campus, less than 20 minutes away, you might visit other collections and museums, the arboretum, and astronomy lab—and stop in for ice cream at the Berkey Creamery.