Cozy Corners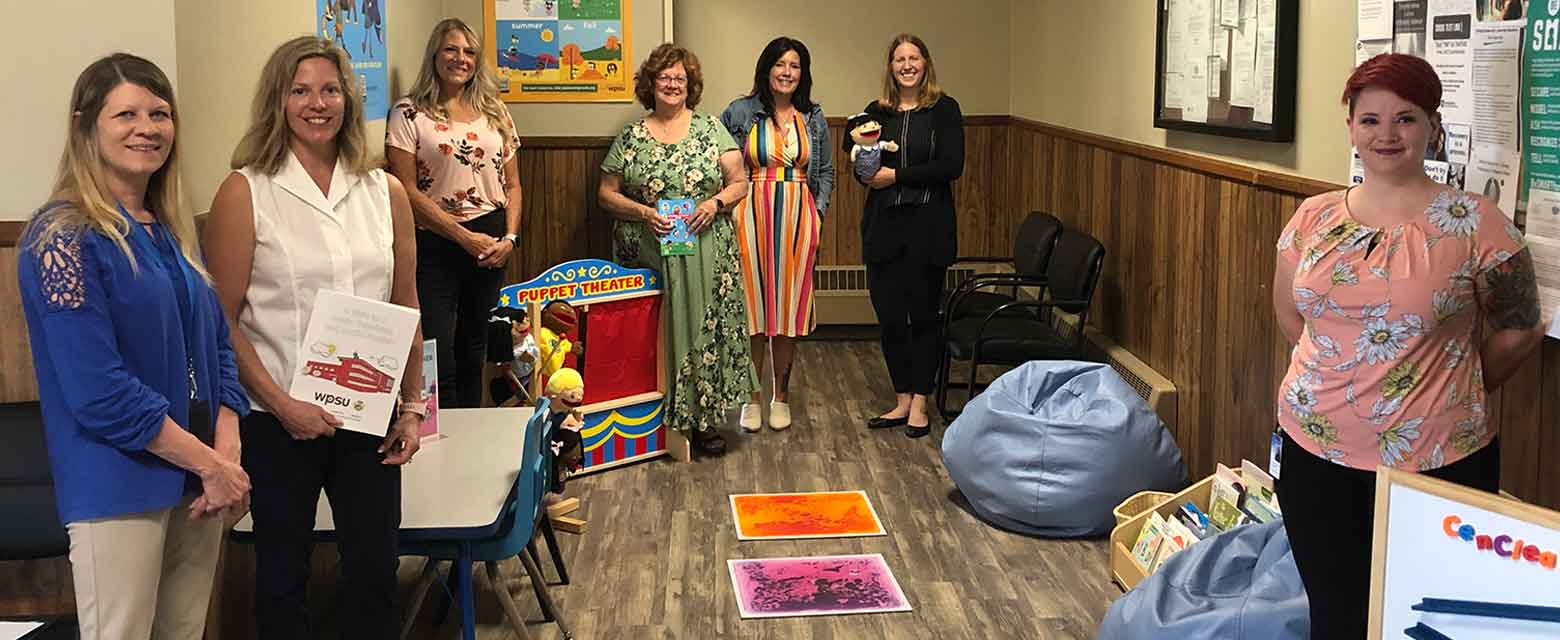 Cozy Corners are welcoming and playful engagement spaces traditionally set up in waiting areas of service centers and community organizations. These spaces offer activities, comfortable reading nooks, and other learning materials to empower positive family engagement while waiting for meetings and consultations.
WPSU currently has installed Cozy Corners at four partner locations across northern and central PA with one additional "Cozy Corner on the Go" with mobile engagement bins.
---
CenClear
1633 Philipsburg Bigler Hwy, Philipsburg
It adds a nice warm and welcoming environment for children and families in our waiting area.
Denice Moore
Senior Clinical Officer, CenClear
With a Cozy Corner located at their Clearfield office, CenClear is dedicated to providing early childhood, preschool, mental health and drug and alcohol therapy to children, teens, adults, and families from locations in Blair, Cambria, Cameron, Clarion, Clearfield, Centre, Elk, Huntingdon, Jefferson and Mifflin Counties as well as some select programs in adjoining counties. They serve more than 14,000 adults, adolescents and children annually in a variety of programs and services.
---
Child Advocates of Blair County
These bins are full of PBS KIDS materials that allow children to have age-appropriate and educational activities at their fingertips while their parents are attending to matters such as medical or dental appointments, applying for housing and other financial assistance, or waiting in hospital and emergency rooms. … through providing access to these bins, we are better able to empower more positive parent-child interactions.Carol Leonard
Family and Community Engagement Manager, CABC-BCHS
Child Advocates of Blair County – Blair County Head Start (CABC-BCHS) is a private, nonprofit, community-based organization founded in 1982 that provides high quality programming focused around the total needs of the family. These Cozy Corner mobile bins are used by the team that serves Blair County families by delivering early childhood, nutrition, health, mental health, and transportation services to their clients to assist them in overcoming barriers that may be preventing them from gaining self-sufficiency.
---
Clarion Community Learning Workshop
Our cozy corner has become a favorite space for all the children after school.
Leah Chambers
Co-Director, Clarion Community Learning Workshop
The Clarion Community Learning Workshop provides educational support and programs for learners of all ages and continues to adapt their services and programs to meet the needs of community members from both Clarion and the surrounding communities. Located at 505 Main Street in Clarion, the workshop's mission is to provide educational and literacy support and opportunities, including after school homework help, tutoring in specific subject areas, daily enrichment activities, GED preparation, and evening programming and workshops in areas of the arts, writing, foreign language, computer literacy, workplace writing, and much more.
---
PA CareerLink of Mifflin County
This family workstation allows parents to concentrate without the interruption of tiny fingers reaching the keyboard or while having to juggle a child on their lap. At the same time, parents can rest assured that their child is safely entertained, right next to them.
Judy Fitzgerald
PA CareerLink® Site Administrator
PA CareerLink® is part of the Pennsylvania Department of Labor & Industry's initiative to transform the landscape of how job-seekers find family sustaining jobs and how employers find the skilled candidates that they need. Through this initiative, a user-friendly, premiere job-matching system has been created to help bridge the gap that currently exists between job-seekers and employers.
---
Riverview Intermediate Unit #6
I have had the pleasure of observing a puppet show, excitement from a little one seeing the table change colors, and listening to a Mama read a story to her child at the table. A really nice cozy corner for the IU visitors!
Staff Member
Riverview Intermediate Unit #6
Riverview Intermediate Unit #6 (RIU6) is a regional educational service agency supporting the needs of the public and nonpublic schools in Clarion, Jefferson, Forest and Venango counties and parts of Armstrong, Butler, Clearfield, Crawford and Indiana counties, encompassing nearly 3,200 square miles in rural western Pennsylvania. RIU6 is one of 29 intermediate units across the state of Pennsylvania that provides support programs, training and therapy services to school districts and nonpublic schools in its region. Programs include: Curriculum, Technology, Early Intervention, Speech and Language, Itinerant Hearing and Vision Support, Emotional Support, Life Skills/Multidisabled Support, Penn Data (child tracking system), Gifted Coordinator Services, Nonviolent Crisis Intervention, Life Skills Vocational Services, Physical and Occupational Therapy Support, and Transportation.