Keystone Society

The WPSU Keystone Society recognizes our highest-level membership donors to TV and/or FM. These donors provide annual contributions totaling $1,000 or more (or $85 per month sustaining gift) to support our mission. Keystone Society giving can be attained through a single membership gift or multiple membership gifts to both TV and FM over the course of the calendar year.
In addition to annual recognition in the WPSU June Program Guide, these donors enjoy special invitations to events and studio productions.
Whether you support WPSU-TV, WPSU-FM, or both, as many of our donors do, members of the Keystone Society have made the decision to provide substantial annual support not only for the programs that they enjoy, but also to help us continue to provide high-quality and culturally diverse programming to all our viewers and listeners across central Pennsylvania and on the web.
---
The Patrick Smith Circle of the WPSU Keystone Society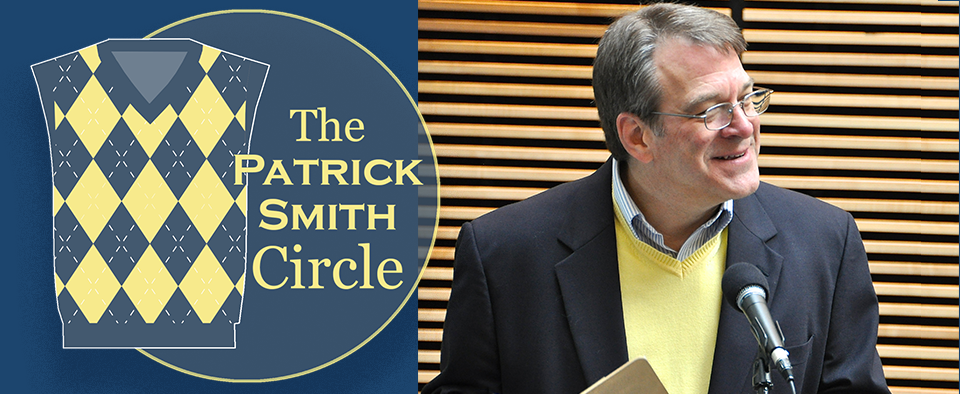 On July 31, 2021, WPSU suddenly lost our dear friend, tireless volunteer, and beloved former colleague Patrick Smith. As a supporter of WPSU, odds are that you encountered Patrick either by hearing his voice on the radio, by seeing him on your TV screens, or by receiving a letter in the mail with words that were inspiring and compelling in his advocacy for WPSU.
To honor the legacy that Patrick left behind, and with the blessing of his family, as of January 1, 2022, donors to WPSU qualify for a new level of giving within the WPSU Keystone Society known as the Patrick Smith Circle of the WPSU Keystone Society.
While qualification for the WPSU Keystone Society remains unchanged, which is cumulative annual giving in any combination to WPSU-TV and/or WPSU-FM in the amount of $1,000, as of January 1, 2022, donors will qualify for the Patrick Smith Circle within the WPSU Keystone Society when they contribute a cumulative annual amount to WPSU of $1,500, including those donors who are sustainers at $125 per month.
In recognition of their philanthropy, qualifying donors to the Patrick Smith Circle will be honored in the June edition of the program guide and on the WPSU website. Also beginning in the spring of 2023 Patrick Smith Circle donors will be invited to breakfast meetings two times a year with Isabel Reinert, Executive Director and General Manager of WPSU. These meetings will be a forum for station updates, a discussion on upcoming projects at WPSU and an opportunity for donors as stakeholders to provide feedback and ask questions, cultivating conversations on the future of WPSU.
Because the future of public media meant so much to our friend Patrick, we find it fitting to pay tribute to him in this way. We look forward to welcoming members of the Patrick Smith Circle of the WPSU Keystone Society in 2023.
---
2023 WPSU Keystone Society
Anonymous (60 + 33)
Andrea Commaker and James Levin
Anne L. Heinsohn
Bala Carver, MD and Mr. Chad Carver
Barbara Rolls
Beth Farmer
Beth Richards | Sandy Stover Group at Kissinger Bigatel & Brower REALTORS
Blake and Linda Gall
Bob and Ellen Frederick
Bob and Judy Butler
Bob and Sonia Hufnagel
Cari and Andy Gustafson
Carla Roser-Jones
Carolyn Donaldson and Jim Marchesani
Cathryn Cronn Epp, Ph.D.
Centre Lions Foresight Committee
D. Brent and Cynthia Pasquinelli
Dan and Donna Kohlhepp
David Whiteman and Connie Kossan
Dawn S. Luthe and Gary W. Felton
Debbie Meder and Larry Gohn
Dennis and Marilyn Gouran
Diane and Carroll Osgood
Donna S. Queeney
Dr. Dennis W. Thomson
Dr. Kelly A. Wolgast
Dr. Linda Trevino
Drs. Brent and Lisa May
Drs. K. James Evans and Lisa M. Fiorentino
Edward and Relda Newlin
Erin and Kyle Myers
Greg and Renee Ziegler
Gregory and Renée Petersen
Jackie R. Esposito
Janelle Bessette and Keith Karako
Janet and Jason Palmatier
Jeff and Jerrilyn Kern
Jeffrey A. Hughes
Jim and Ruth Peterson
Jo and Ed Lash
Joan and Steve Turns
Joan Magistrella
Joseph Ewaskiewicz VMD PhD
Judith A. Todd Copley and Stephen M. Copley
Judith Milhous
Judy and Fred Sears
Judy Heberling and Michael Husband
Julie and Mark Holm
Kathleen Postle
Kevin P. Furlong
Leland and Renata Engel
Leon and Faye Marshall
Louis P. Silverman and Veronica A. Samborsky
M. Wesley Shoemaker
Mary Ellen and Tom Litzinger
Mary Lou Bennett
Mary Wujek
Michael Burk
Nicholas Winograd and Barbara Garrison
Phil and Connie Coolick
RE Farm Cafe
Rebecca J. Passonneau
Robert Mincemoyer
Sally T.F. Knapp
Sharon and Ken Manno
Stephen and Jennifer Van Hook
Steve and Connie Schroeder
Thomas E. Herbstritt
Tom and Sara Songer
Wayne Osgood
William Kenneth and Suzann Jenkins
Bold names indicate Patrick Smith Circle members