Thrift Shop Chef:
Recipe – Cast Iron Steak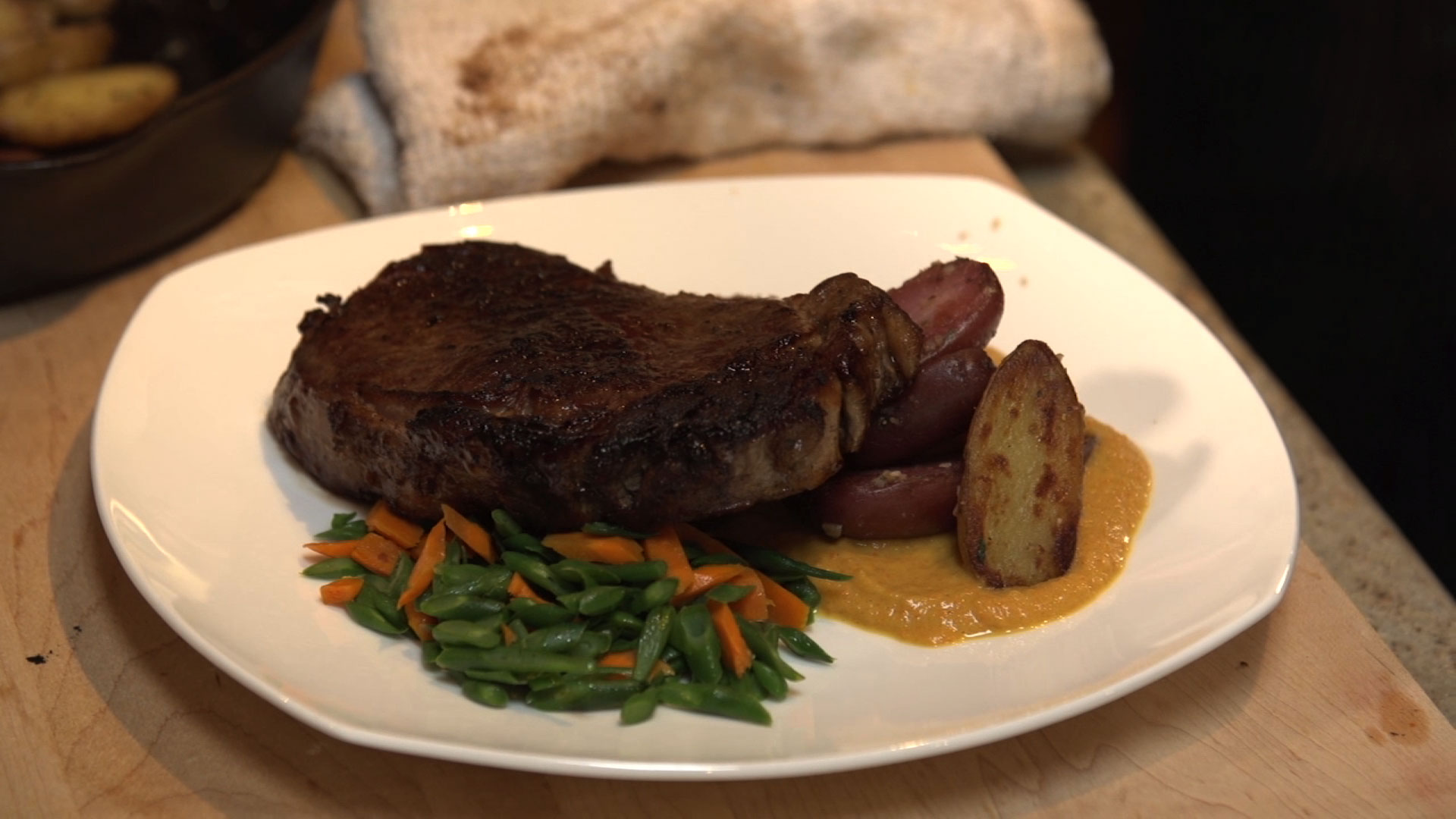 Ribeye Steak with Vegetable Medley, Roasted Fingerling Potatoes and Brown Butter Purée
Vegetable Medley
Ingredients
½ lb French green beans thinly sliced
1 large carrot, peeled and diced
1 tablespoon butter
Salt and pepper
Preparation
Place green beans, carrots and butter in a sauté pan over high heat and stir to coat as butter melts.
After 1 minute the green beans and carrots should be sizzling and popping. Take off heat and serve.
Ribeye Steak
Ingredients
8 to 12 oz ribeye steak
1 clove of garlic, crushed
tablespoon of butter
salt and pepper
Preparation
Take your steaks out of the refrigerator an hour before you cook them in order to bring them up to room temperature.
Season one side of your steaks generously with salt and pepper, then set aside for 5 minutes.
Place your steaks so that the side with the fat cap is facing down, in a cast iron pan over medium heat for 3 minutes to render out some of the fat.
Flip your steaks so that the seasoned side is down and cook for 4 minutes. Season the side facing up with salt and pepper.
Flip your steaks and turn the heat down to medium-low. Cook for another 4 minutes.
As that side cooks, place butter in the pan along with the crushed clove of garlic.
As the butter melts, use a spoon to scoop the melted butter on to the top of the steaks, basting them as they cook.
Remove steaks from pan and allow to rest for 5 minutes before slicing.
Roasted Fingerling Potatoes
Ingredients
1 lb bag, multicolor fingerling potatoes
2 cloves of garlic, minced
olive oil
salt and pepper
rosemary, finely chopped
Preparation
Parboil your potatoes so that they are not completely cooked through, but can be pierced by a fork.
Slice potatoes in half, lengthwise.
Pour a hearty glug of olive oil in a cast iron pan over medium-high heat. Lay your potatoes flat side down in the pan and season with salt and pepper.
As potatoes start sizzling, give the pan a few flips to move potatoes around.
Add garlic and rosemary to the pan and flip to mix ingredients.
Brown Butter Purée
Ingredients
1 stick of butter
Olive oil
1 onion, chopped
1 large carrot, chopped
Preparation
Place chopped onions and carrots in a small pot with a glug of olive oil. Place on high heat and allow vegetables to sweat.
Put the whole stick of butter in a sauté pan over high heat, and, using a small whisk, move the butter around the pan as it melts, stirring constantly until the butter is completely melted and turns brown.
Pour the brown butter into the pot with your sweated vegetables and use an immersion blender to pulse the ingredients to the desired consistency for your purée.
More Episodes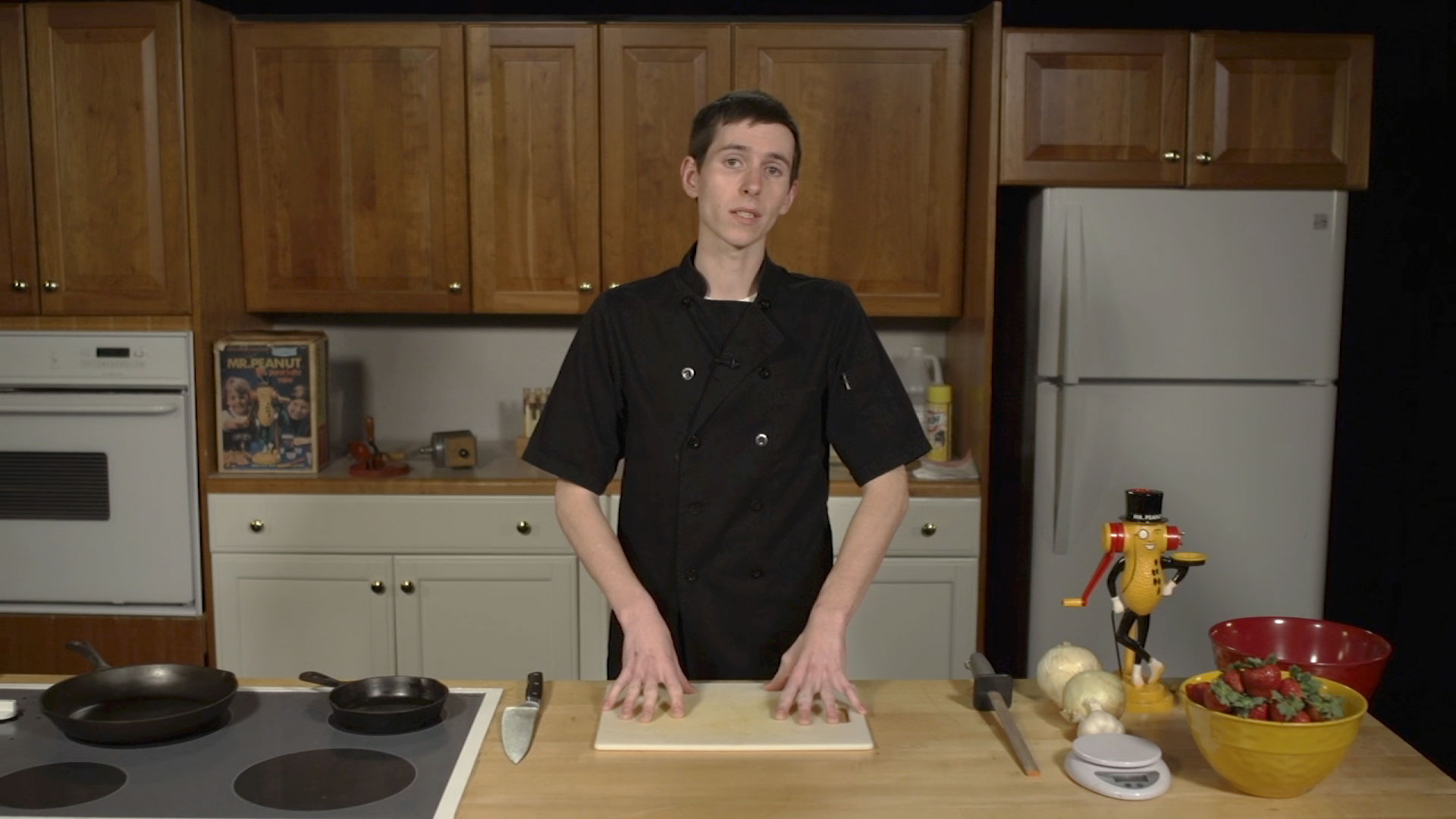 Thrift Shop Chef
A stable cutting board is a safe cutting board.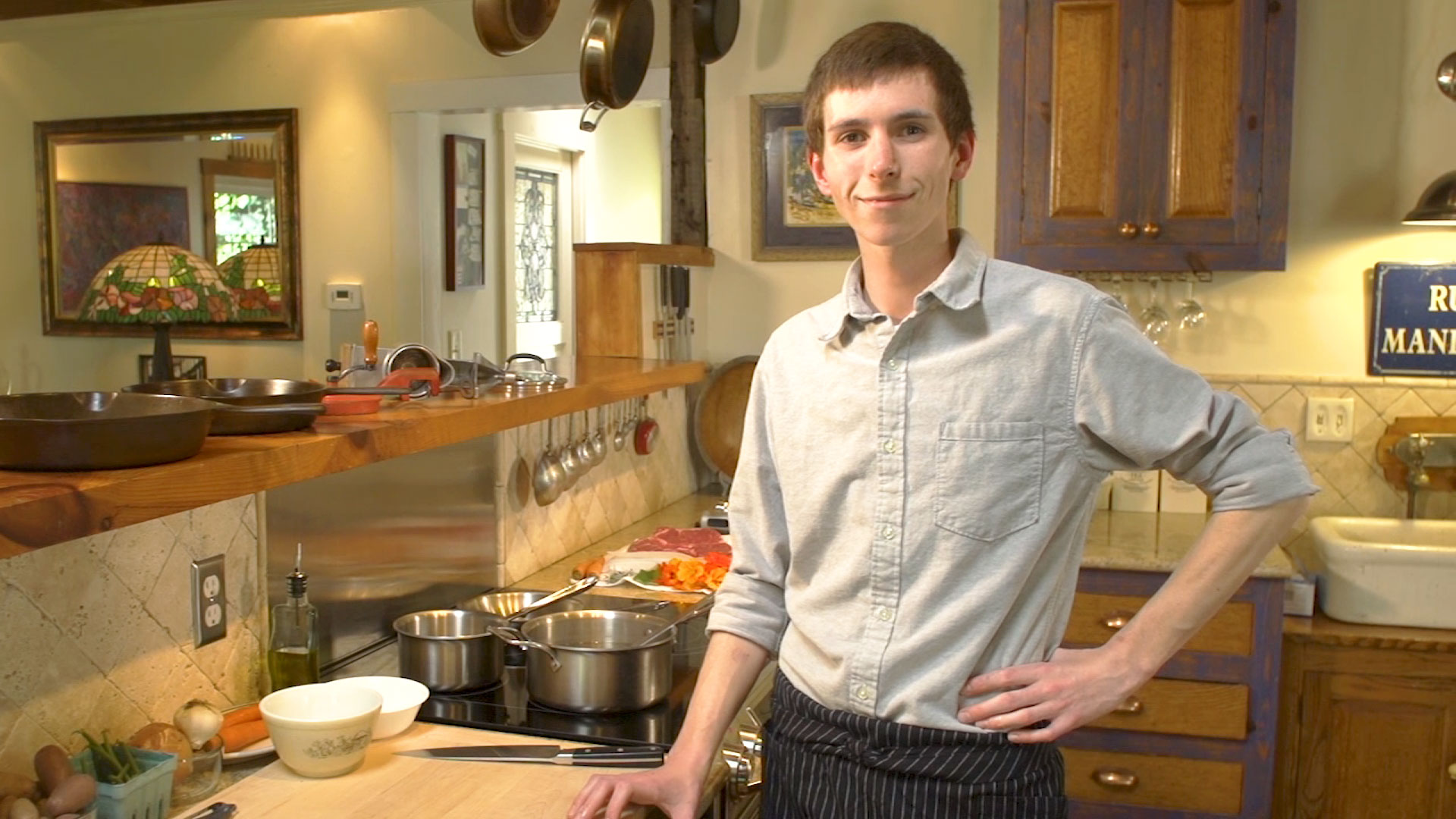 Thrift Shop Chef
In the pilot episode Satchel explores the wonders of cast iron pans, serving up rib eye steaks and bacon-wrapped scallops!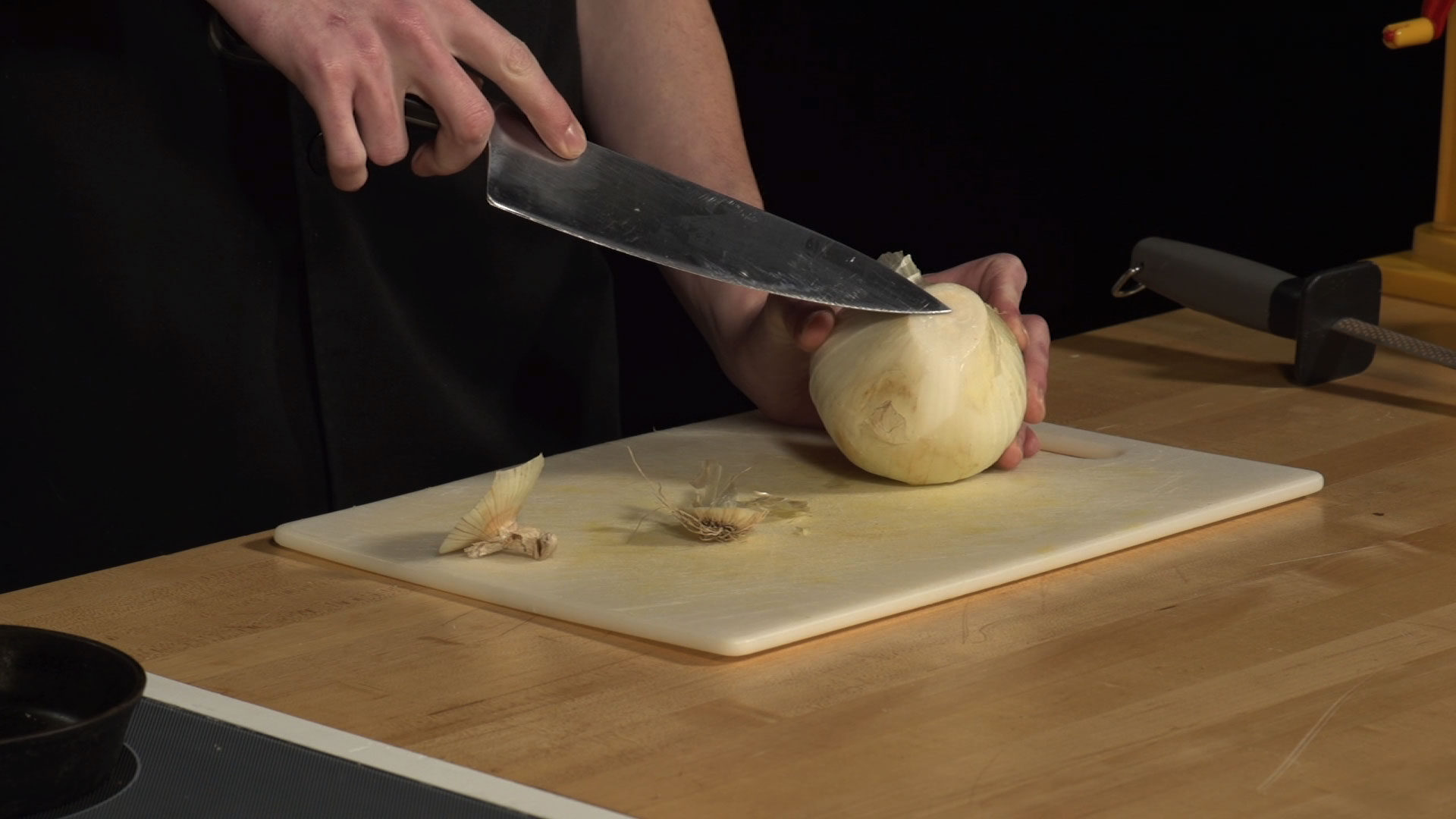 Thrift Shop Chef
Satchel demonstrates the best ways to chop and dice onions.
More from Thrift Shop Chef »