Pennsylvania Folklore: Woven Together:
Featured Artists
Tina Williams Brewer
Pittsburgh, PA
Story Quilting – African symbolism, Black heritage
An internationally-honored creator of story quilts, Tina Williams Brewer is known for her artistic exploration of African-American history and the personal experiences associated with it. She uses symbolism, textile and fabrics to create story quilts that are motivated by issues focusing on family, women and children, and the spirituality of culture. Her work has been celebrated and displayed in locations as geographically distant and diverse as the United States Embassy in Ghana and the American Craft Museum in New York City.
Brewer has brought the joy of quilting to hundreds of individuals through her residency programs and volunteer efforts. Never an advocate of the traditional, she has been a leading force with the Pittsburgh-based residency program of the Pennsylvania Council on the Arts as well as the Art and Kids Museum Project with the Society for Contemporary Craft and the Pennsylvania Council on the Arts' Preserving the First Culture traveling program. She is also a board member of the Pittsburgh Filmmakers/Pittsburgh Center for the Arts, an emeritus board member of Associated Artists of Pittsburgh, and a member of the Fiber Arts Guild of Pittsburgh and Women of Visions, Inc. In 2008, Brewer received the Service to the Arts award.
Brewer received her B.A. from Columbus College of Art and Design. A native of Huntington, West Virginia, she now lives in Pittsburgh with her husband, John Brewer. They have two children, John Emery and Kristine, and four grandchildren.
Bio courtesy of tinawilliamsbrewer.com.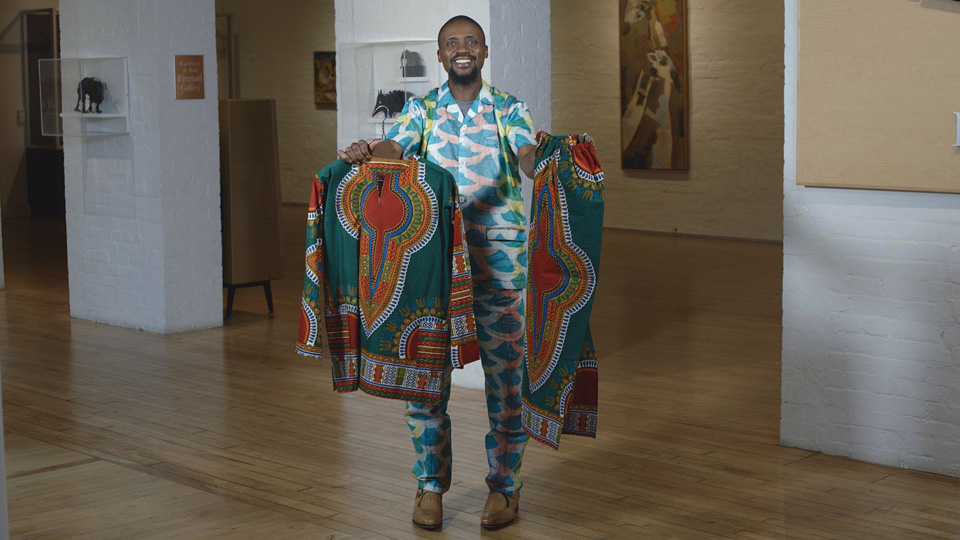 Ansumana Komba Gbembo
Erie, PA
West African clothing/tailoring
Originally from Sierra Leone, Ansumana Komba Gbembo fled to Guinea with his family in 1995 due to the Sierra Leone Civil War. In Guinea, he attended a trade institute through the United Nations Refugee Agency. Gbembo says many refugees learned new skills such as sewing and carpentry in this program. After three years, he and his family moved to Gambia and officially began his career as a tailor. However, when Gbembo got very sick in 2009, the U.N. moved him to the United States for medical treatment. He has been in Erie ever since.
Over the years, Gbembo has traveled twice to see his wife and three children, and to gather fabrics for his clientele in the states. In West African fashion, color and design are very important, and there are always new motifs emerging — unlike in America, he says. Gbembo is not just a tailor, but he is a designer, too. "I do not need a pattern when I sew. I do what my customers want, but I can create my own pieces. My art is combining patterns, colors and different fashions together." Some of his unique projects include sewing for a Gambian minister, creating wedding gowns and other ceremonial clothing, and more recently, making special gloves for beekeeping suits.
Sewing means a lot to Gbembo because he was supported by the U.N. to learn this trade. That is also why he feels strongly about passing the art form onto others. In Gambia, Gbembo taught many young people how to sew in the West African tradition. In Erie, he has volunteered at the Bethany Outreach Center and currently mentors two local apprentices.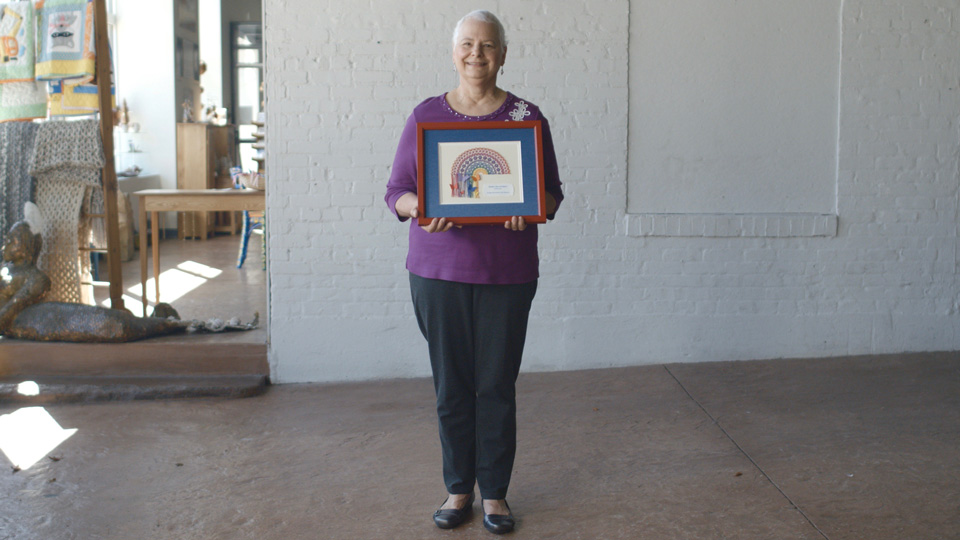 Alexandria "Allie" Zupan Marguccio
Seward, PA
Idrija bobbin lacemaking
The great-granddaughter of a Slovene bobbin lacemaker, Allie Marguccio's passion for her heritage is evidenced by her continued study and research of the artform. Idrija lace has long been a treasured gift sent by her Slovene relatives. With the help of her cousins, she was able to obtain the traditional materials used to make Idrija lace so that she could carry on the tradition in the USA. Marguccio has traveled to Slovenia numerous times to tour the lacemaking centers of Idrija — Železniki and Cerkno and studied under the tutelage of Metka Fortuna, director of the Idrija School of Lace, and Stana Frelih, Master Teacher.
In addition to private lessons at her home, Marguccio has taught beginning bobbin lace at the Bottle Works Ethnic Arts Center, United Elementary School where she formerly worked as a school librarian, and the New Florence Community Library. Along with teaching workshops to individual lace groups, she has taught Idrija lace at various events such as Ithaca Lace Days (Ithaca, NY), the Winter Lace Conference (Costa Mesa, California), and North Carolina Regional Lace Guild's Spring Lace Day (Chapel Hill, NC). She has also taught at IOLI (International Organization of Lace, Inc.) Conventions in St. Paul, Minnesota, Salt Lake City, Utah, Sacramento, CA and Coralville, IA and is a member of the Five Rivers Bobbin Lacemakers of Western Pennsylvania, Finger Lakes Lace Guild (NY), IOLI, and OIDFA.
Marguccio's lace work and her 2008 Pennsylvania Council on the Arts grant study project were showcased at exhibits in May and June of 2009 at the Bottle Works Ethnic Arts Center as part of a Slovenian Cultural Heritage Celebration and more recently in June 2013 as part of an Exhibit of Ethnic Arts. She and her husband Tom, who is a woodturner of lace bobbins, established Designs by Marguccio in 2003.
Bio courtesy of designsbymarguccio.com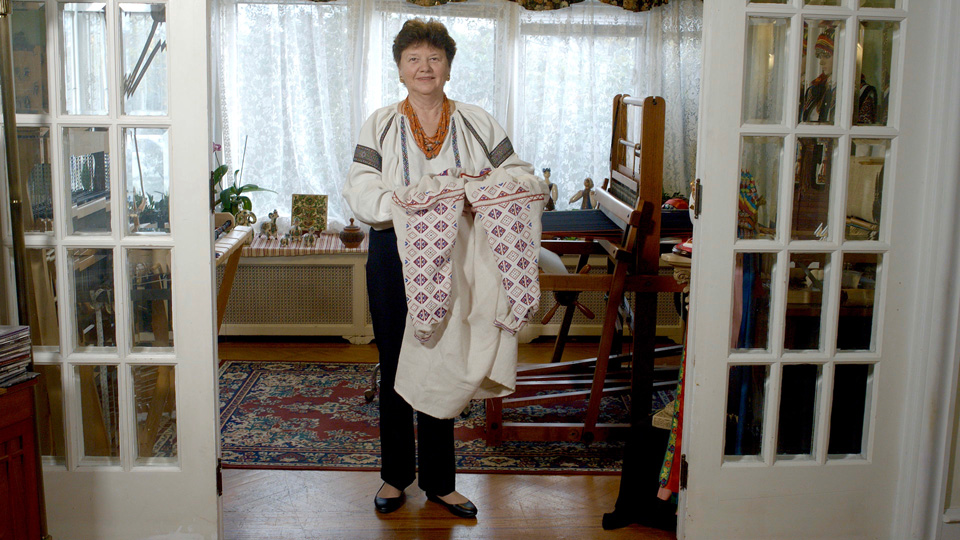 Vera Nakonechny
Philadelphia, PA
Rushnyky, Wedding and Healing Ritual Towels
Vera Nakonechny was born in Germany to Ukrainian parents who had been forced to move during the war. After immigrating to Philadelphia, she studied with many masters of Ukrainian traditional arts, including Eudokia Sorochaniuk. Since 1991 (when Ukraine declared independence), she has been traveling there regularly to both learn and teach textile traditions such as weaving, headpiece making, and embroidery for rushnyky. Rushnyky tell the story of family and civic life and often function as healing tools in Ukrainian communities (e.g., a sick person might be wrapped in a towel that has also been blessed and prayed over).
"For each occasion there is a different towel: birth, christening, wedding, healing… Each is done in different ways with different symbols and different embroideries, and yet each is always symbolizing that spiritual part of human life."
Bio courtesy of folkartpa.org
More Episodes
Pennsylvania Folklore: Woven Together
Learn a little more about the amazing artists featured in the film.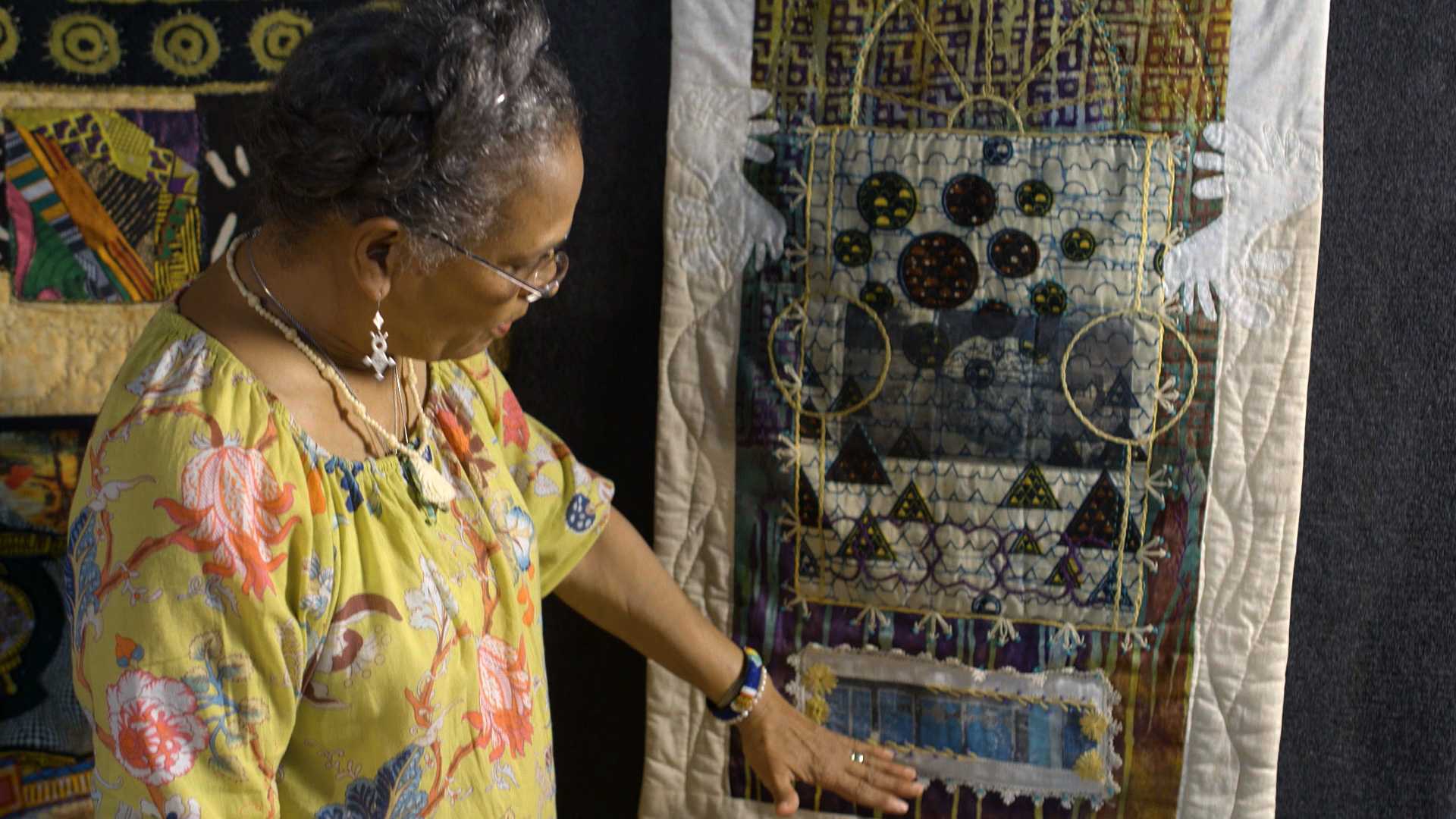 Pennsylvania Folklore: Woven Together
Tina Williams Brewer talks bout the inspiration and design of her quilt "Say It With Iron."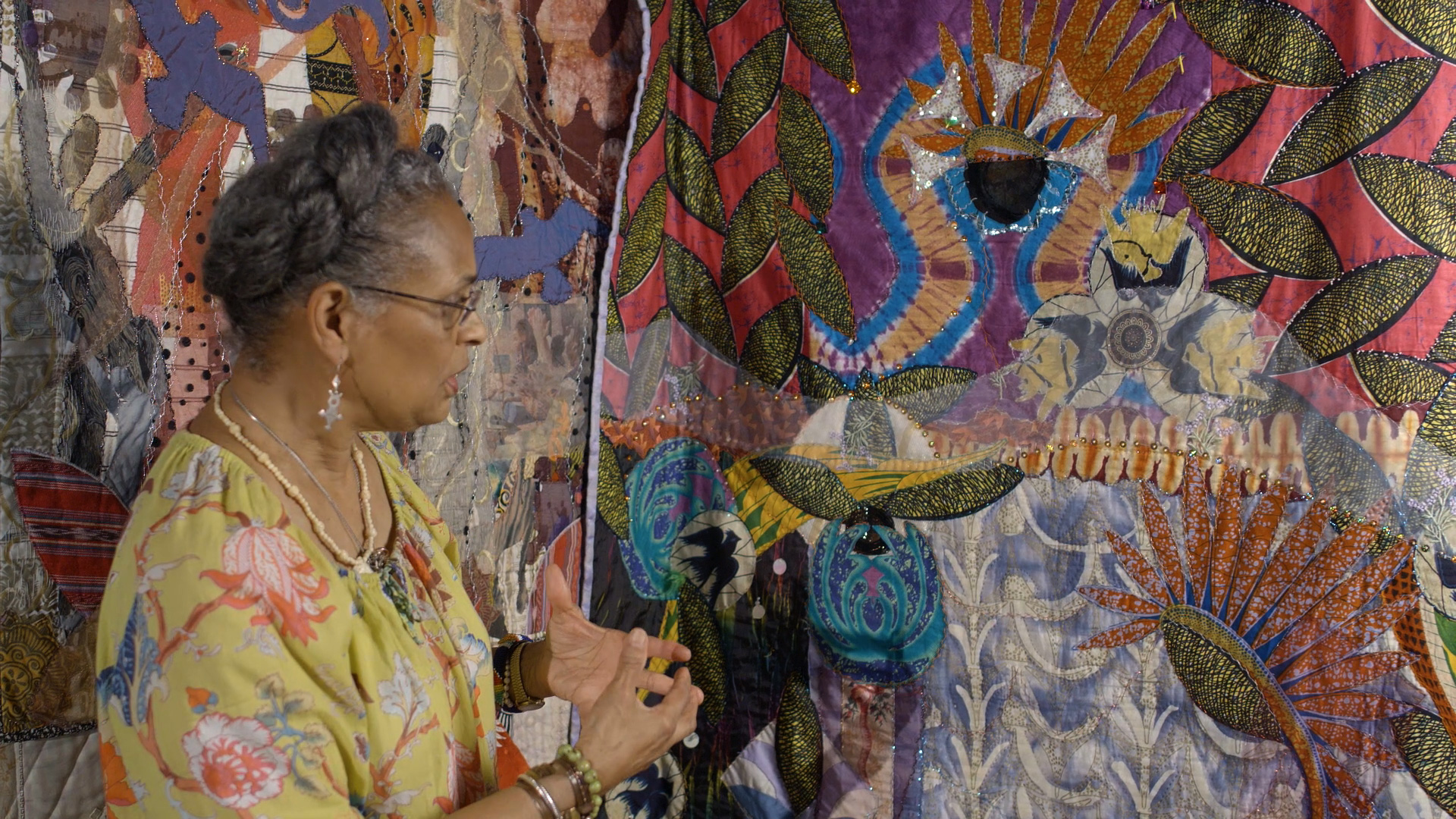 Pennsylvania Folklore: Woven Together
Tina Williams Brewer talks about the inspiration and design of her quilt "Divine Plan."
More from Pennsylvania Folklore: Woven Together »