Conversations Live:
Get Your Garden On! (Spring 2014)
Aired May 15, 20145
With summer just around the corner, it's time to spring into yard work. But with so much to tackle this time of year, where do you begin? On this edition of Conversations Live, our experts answer YOUR questions and provide tips to help you get your garden off to a good start.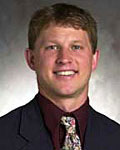 Tom Butzler
Tom Butzler is a Horticulture Extension Educator in central Pennsylvania. Butzler has been teaching beekeeping classes to youth and adults for over 15 years and developed Penn State Extension's first online beekeeping course.