News
May 15, 2023 Nooz
Monday, May 15, 2023
To view the May 15 Nooz, click here.
---
LINKS PRESENTED AT WPSU BOARD MEETING – 2.16.21
Tuesday, February 16, 2021
SIGN UP OPPORTUNITIES:
SHARING OPPORTUNITIES:
WPSU STORY LINKS TO TOPICS COVERED:
WPSU FM's stories about gerrymandering: https://radio.wpsu.org/term/gerrymandering
WPSU's Min Xian's story on broadband DIYers:
https://radio.wpsu.org/post/rag-tag-group-diyers-has-answer-rural-pa-s-internet-problem
WPSU Program Links to Charles Blockson:
https://wpsu.psu.edu/tv/programs/blockson/
WPSU digital short about the Watershed Journal: http://wpsu.psu.edu/digital/shorts/the-watershed-journal/
Educators on the science of COVID, that WPSU developed with CSATS:  https://www.covid19.csats.psu.edu/
NEW BOARD MEMBER'S INFORMATION:
Melody Tisinger's organization:  http://bottleworks.org/
---
WPSU Activities and Projects Surrounding COVID19 Pandemic as of May 20, 2020
Wednesday, May 20, 2020
All WPSU activities and projects for COVID19_May 20
Radio
• 90 COVID-19 related news stories between February 18 and May 18
• Provided USB mics to radio staff for remote recording
• Health Minute – four episodes o Handwashing
o Staying Connected
o Social Distancing
o Mental Health
• Take Note o Penn State Prof. Erika Saunders On Mental Health Effects of the COVID-19 Pandemic
o Dr. Matthew Ferrari, Penn State associate professor of Biology, Huck Institutes of the Life Sciences
o Dr. Nirmal Joshi chief medical officer, Mount Nittany Health
o Dr. Bernice Hausman, Professor, Public Health Sciences, Penn State College of Medicine
• Democracy Works Podcast o A Roadmap to A More Equitable Democracy
o COVID-19 Exposes Democracy's Tensions
o Will COVID-19 Create a One Issue Campaign?
o Give Me Liberty or Give Me COVID-19?
o Polling in a Polarized World
o COVID-19: Human Movement & Behavior
o COVID-19: Spillover
• NPR and National Programming o Daily stories from NPR
o COVID-19: Hard Questions, Real Answers
o Coronavirus–A Weekly Report from NPR News
o The National Conversation with All Things Considered weeknights (ending May 29)
o PA Department of Health PSA on the spread of COVID-19 on WPSU-TV and FM
Television
• Instructional Television o WPSU programming changes for grades PreK-12, noon–5:00 p.m.
o The WORLD programming changes for grades 6–12, noon–5:00 p.m.
o New Learning from Home spot starts May 6
o New "Robot Doctor" (8) – shared PA PTV stations STEM program, Thursdays at 5:00 p.m.
o New Meet the Helpers series
o Daniel Tigers' Germs, Germs, Go Away interstitial
o Science-U@Home promos airing on 3.1 and 3.4 channels
• Remote Productions o Conversations Live: Speaking Grief – May 21
o Conversations Live: Get your Garden On – April 30
o The Investment 2020 will be produced remotely for online video and broadcast
o Weather World – produced from home. WPSU helped to build infrastructure to move to remote delivery from staff's homes.
• PBS Programming o NOVA: Decoding COVID-19 May 20
o American Portrait: COVID-19 Special
o Frontline: Inside Italy's COVID War
o Global Agenda: World Lockdown – Battling the Pandemic
o Speaking Grief premiere on May 5 (website, radio)
Digital Initiative COVID-19 stories
• Metronome from Home (4) – May 11 first stream on Facebook Live
• "Show us your mugs" social distancing and connecting
• "Teddy Bears and Rainbows" neighborhood scavenger hunt
Community Engagement and Education Outreach
• Serving 105 school districts in 24 counties
• "Summer of Adventure" backpack fundraising and free community outreach program
• Op-Eds from 8 board members published in regional newspapers
• New education website launched May 11
• PA Department of Education/PA Public Television Stations collaboration "Learning at Home" launched new daytime instructional television. o TV schedule is coordinated with online learning activities/lesson plans. Schedule and activities change every Saturday. (through June 30)
o Two new programs: Robot Doctor (6-12 grades) and Into the Outdoors.
o Weekly "Learning Families" email to 1,050 subscribers. Contains TV programs and features lessons for the week
o Handouts distributed by Altoona School District (1,200 families)
o Handouts distributed by YMCA of Clearfield and Centre (10K meals/week)
o Eight-week schedule of outdoor and STEM-themed learning at home activities (links to PDFs and videos)
o Planning weekly Facebook Live explore the outdoor do-together activities
o Meetings with STEM educators in IUs and PDE and stations – ideas around social and emotional learning discussed.
o Possible Interstitial with teachers – Relationship with PSEA
o Coordinating awareness communication through PSEA
Membership
• June TV and FM pledge 7-day pledge and social distancing changes
• "143 Day" Fred Rogers campaign May 1–18 goodwill and light fundraising $3,983 from 65 donors
• COVID-19 donor stewardship spots for TV and FM
• Gift acknowledgement emails and letters
• Challenge donors: Make their gift they would have made during radio drive
• Membership testimonial project: Keystone Society and select donors to tell us "Why I love WPSU"
Development
• Business support for Metronome Facebook Live concert
• Morgan Stanley Business Support
• Bi-weekly emails to business supporters
• Business Support spots–support local businesses who support TV and FM
Marketing
• High school senior congratulations TV promo
• "Learning at Home" initiative –newspaper ads in 6 papers continue next week.
• #HowWeEndure social media engagement
• Metronome from Home Facebook concert series
• American Portrait COVID-19 special
• Meet the Helpers social media
Creative Services– University Collaborations
• Administration o Penn State virtual spring commencement – over 100,000 people from 100 countries
o Penn State President Barron studio recording/Penn State Health
o Penn State Town Hall – March 2020 and May 2020
o Penn State Board of Trustees audio call/web stream
o Penn State New Student Orientation web welcome & orientation events
o Class of 2024-Virtual Welcome to Penn State Family
• Colleges and Centers o Penn State Global Programs Town Hall
o Penn State Graduate School Town Hall
o Penn State Arts and Architecture Musical Theatre virtual performances
o Penn State World Campus three web streams: Chella Man, Reema Zaman, Eileen Collins, Saquon Barkley (in partnership with SPA)
o Shavers Creek web stream (May 2020)
o Penn State Law virtual commencement 2020
o Penn State Schreyer Honors College – Medals Ceremony
• Online Course Design o Penn State Huck Institutes of the Life Sciences 3-part COVID-19 MOOC
o Penn State Justice and Safety Institute classroom to online course
o Penn State Schuylkill online courses
o Penn State Center for Science and the Schools COVID course
---
WPSU Postpones Spring FM Pledge Drive
Wednesday, March 18, 2020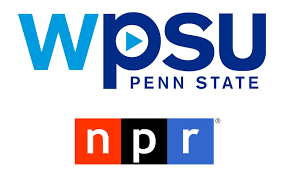 After internal discussions, we have made the difficult decision to postpone the FM drive. While it is important to reach out to our members for support to sustain the public service that WPSU-FM provides, it is equally important that our coverage remain uninterrupted, given the rapidly changing and unprecedented times that we are living through right now.
We will be reaching out to our listeners in other ways to ask for their support for WPSU through pre-recorded on-air spots, social media, renewal mailings, and mobile giving.
We will continue to monitor the situation and hope to come back for an on-air drive later in the spring.
For now, take care of yourselves and thank you for being advocates for WPSU.  We will, of course keep you apprised of all changes and updates.
---
Ever think about becoming an on-air TV Pledge Host?
Monday, November 4, 2019
Membership Director Jessica Peters invites you to think about becoming a TV Pledge Host by coming to one of the Live pledge nights in December (Monday, 12/2, Wednesday, 12/4 or Saturday, 12/7) to see what it takes!  Contact Jessica at jessica@psu.edu or call her at 863-5594.
---
Become a WPSU volunteer today!
Tuesday, August 27, 2019
Create a VicNet account by heading here on our WPSU website to learn more and sign-up for your account.   Once you have completed the Volunteer Application and Orientation Training (It's simple, trust me!), you will be eligible to sign up for volunteer shifts. This will be the primary way to volunteer for all WPSU activities going forward.
We are currently signing folks up for our Fall  Radio pledge drive to answer phones from October 12 – 18th. Thank you!
---
Primer for Public Radio Sources
Monday, July 8, 2019
Hi Fellow Board Member –

The NPR Public Editor Elizabeth Jensen, just published an excellent article on the on-going task of helping a listener who is trying to share feedback.  Chasing a story heard on the radio can lead down a confusing rabbit hole. Here's a quick guide to clarify what content comes from NPR and what comes from other audio producers.
All the best,
Greg
---
PA State Budget Announced
Monday, July 8, 2019
Gov. Tom Wolf signed the $34-billion budget Friday, June 28. The plan includes $750,000 for PA Public TV, the same amount as 2018-19 but does not stipulate $500,000 be allocated for the "Battling Opioids" statewide initiative. It also offers more money for public schools, early childhood education and public colleges and universities. There are no tax increases – and no new taxes or fees – in the budget. The Republican-led Legislature also approved a measure allowing the Wolf administration to take control of Pennsylvania's online health insurance exchange program. The governor said it would help many Pennsylvanians save money.
Click here to see the line-by-line budget with Funding for PA PTV on Page 2, Line 113.
---
Flash Talks – May 21, 2019
Wednesday, June 5, 2019
Presentation Documents
---
May Meeting Survey
Wednesday, May 22, 2019
WPSU would like feedback from our board members about the meeting on May 21, 2019.  Click here to fill out a short survey.
---
Board Member Happenings
Thursday, May 16, 2019
Board Chair Peggy Morgan recently hosted our "Les Miserable Screening" at the Struthers Library Theatre in Warren. Several dozen guests were treated to the one hour premiere screening and refreshments and cake thanks to Peggy!
WPSU's Community & Educational Services Team Leader Cece Merkel submitted our final report on the PBS Early Childhood Planning Grant that many board members were instrumental in helping secure surveys with community and educational leaders. For additional information on how this information will serve WPSU in planning for the future, please contact Cece Merkel (cbm12@psu.edu) and she will be happy to share more detailed information.
---