Create Classroom Community Through Song
Create and learn with artists from the touring production of Small Island Big Song, being presented by the Center for the Performing Arts at Penn State. Explore how songs and chants can be integrated into your classroom to support your community of students. Experience, through song, the themes of the performance—including the importance of indigenous knowledge, global musical influences, and a strong emphasis on the environment and the importance of caring for it.
A Conscious Education: Creating a Conscious Experience for Educators to Thrive
In this workshop Conscious Coach and previous school teacher, Jennifer Hepton, shares insights on how uncertainty and trauma can affect our nervous system and how this awareness will allow you space for you to thrive as an educator. She discusses what Conscious Education consists of, how recognizing your own triggers and emotions is essential in holding space for you to find ease and for your students to thrive. Jennifer also discusses how important it is to understand the many faces of grief and how it can show up in our lives especially as we have had to pivot and adjust during a global pandemic.
Drawing Together: STEM Integration Through Drawing Experimentation
with Aaron Knochel and HUB-Robeson Galleries
Explore how drawing can bring STEAM concepts to life for your elementary students! This workshop will provide opportunities for all educators to become comfortable integrating mobile technologies and simple machines, allowing students to create their own expressive artwork.
Participants will receive a FREE resource to support their STEAM practice at home or in the classroom. Act 48 credit available.
Supporting Language Development through Media
with Dr. Allison Henward and Yeojoo Yoon
Classroom play often involves popular media culture. Is the use of media helpful to children's development? Is it appropriate to bring media culture into the classroom? We will explore how to use media to support children's language development and the challenges and possibilities they bring.
Recognizing and Responding to Children's Grief
We're living in a time of unprecedented communal grief and children are not immune. But children's grief doesn't always look the same as adult grief. In this webinar, experts will discuss some of the ways children's grief can manifest and provide guidance on how to respond and support grieving children.
Are They Watching Screens, Again? Young Children, Media, Play and Learning During COVID
Thursday, April 15, 6:00 p.m.
In this webinar, Dr. Allison Sterling Henward will focus on how families of young children ages 3—8 and youth can make the most of increased reliance on screens during COVID-19. For many families, electronics are helping children and families to maintain a sense of normalcy and connection during stay at home mandates. Here we will explore research on young children and learning with media tools and discuss strategies that allow families and loved ones to use children's media use to enhance learning and development. Her goal is to support young children and their loved ones as they find the right balance of media learning with other important activities.
Register
Best Practices for Simple Video Filming and Editing
WPSU producers share their expertise on filming and editing simple videos to enhance your classroom experiences. These how-to videos will help you create engaging videos for your classroom, and learn basic techniques for editing videos to post online.
How to Address Difficult Subjects with Children
Preschools and elementary classrooms are places where supportive teachers and curriculum can aid in children's social and emotional development. But how should teachers and parents address difficult, emotional subjects in the preschool classroom? And what should this look like in schools?
In this webinar, Dr. Allison Sterling Henward, Associate Professor of Early Childhood Education at Penn State, will focus on incarceration, homelessness, economic instability, and changing family systems and dynamics. This online forum will include guided discussion and activities:
Young children's social and emotional development in home and community contexts.
Preparing for conversations with young children in the classroom.
How to respond to children's needs and questions in developmentally appropriate ways.
Question and answer forums for parents and teachers.
PBS Learning Media in the Classroom
PBS Learning Media is a free resource library with education materials provided from PBS stations across the nation. Designed for PreK – 12 audiences, the resources are a valuable addition to any classroom.
WPSU's educator, Dr. Kate Berardi, explores PBS Learning Media and provides a hands-on example of how to incorporate its assets into your classroom.
Talking About Self-Care
This three part event is an opportunity to reflect, learn and engage with other educators around a topic you may hear about, but may not feel like you have the time or energy for — 'self-care.'
Connection: Supporting Kids Mental Health During Difficult Times
Mental Health is a pressing issue for our young people.  Marisa Vicere and Ali Turley from the Jana Marie Foundation will help parents and families explore the prevalence of mental health concerns, how to recognize warning signs, and ways to engage in meaningful and supportive conversations.
About the Presenters
Marisa Vicere
As a strong believer in the empowerment of young people, Marisa Vicere founded and became president of Jana Marie Foundation in 2012. Marisa is an instructor in Mental Health First Aid (Youth and Adult Modules), Teen Mental Health First Aid, and Certified Question Persuade Refer (QPR) Gatekeeper.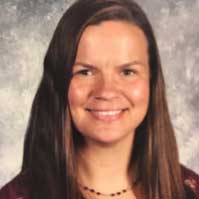 Ali Turley
Ali Turley is Certified School Counselor and National Certified Counselor and works both in schools and as a Program Specialist for the Jana Marie Foundation. Ali holds a Master's Degree in Education from Penn State University and is trained in many evidenced-based prevention, parenting and mental health programs.
Empathy in the Classroom: A Hands-on Guide for Educators
Dr. Kate Berardi, a UNESCO Fellow, will present a free Zoom webinar on how to best increase empathy in students through simple, everyday practices.
This non-credit course is part three of a three-course series offered for Pennsylvania Act 48 continuing education units by WPSU Penn State. One CEU is available for each course.
Supporting Families through Changing Educational Environments
Wednesday, October 28, at 6:00 p.m.
Dr. Peggy Schooling, Penn State professor of Practice in Educational Leadership and executive director of the Pennsylvania School Study Council will present a free Zoom webinar to help prepare educators and administrators for supporting families with changing educational environments throughout the school year.
This non-credit course is part two of a three-course series offered for Pennsylvania Act 48 continuing education units by WPSU Penn State. One CEU is available for each course.
---
Speakers
Peggy Schooling
Dr. Schooling has worked as a teacher, speech pathologist, reading specialist, elementary principal, central office administrator, executive director, and consultant in the private, public, and for-profit sectors of education for over 40 years. Much of her career has involved working in and with small and large urban school districts. Over the course of her career, Dr. Schooling has had the privilege of partnering with teachers, school and district administrators, and several state education agencies across the United States and abroad in the areas educational leadership, teacher professional learning systems, system wide change, and literacy.
Rebecca Heiser
Rebecca is a distance education researcher and the lead instructional designer for the Lifelong Learning and Adult Education Program with The Pennsylvania State University at World Campus. She is pursuing a doctorate in distance education from Athabasca University, with research interests at the intersection of globalization, equity, and learning analytics in distance education. Rebecca also serves on a research cohort with the Oregon State University Campus Research Unit to study Perceptions of Learning Data in Higher Education and acts as an Open Education Resources (OER) research fellow with Bingham Young University sponsored by The William and Flora Hewlett Foundation. Prior to her employment with Penn State, Rebecca developed online and blended learning solutions for K12 leaders and educators with the Southern Regional Education Board to serve 36 states across the nation. Since COVID-19, Rebecca has partnered directly with state and district leaders to brainstorm solutions for equitable remote learning and instruction. In addition, she is an established technical writer, learning design consultant and eLearning developer for corporate software companies.
William Diehl
Dr. Diehl also serves as associate editor for The American Journal of Distance Education and is an expert reviewer for other academic journals. He is the director of The American Center for the Study of Distance Education and the founder of the International Museum of Distance Education and Technology.
Dr. Diehl is author and co-author of numerous articles in academic journals and proceedings at academic conferences. A consultant in the corporate, higher education, and government sectors, his professional experience also includes work as K-12 teacher, technologist, web designer and developer, instructional designer, and multimedia consultant.
---
Register
Simple Interactions: Using the Legacy of Fred Rogers to Support Everyday Interactions with Families
Dr. Annie White, senior research associate for the Fred Rogers Center will talk to parents and educators about the benefits of simple, everyday interactions with children.
Utilizing PBS Learning Media Resources in Your Classroom
Tap into the power of learning with access to resources for all content areas and age groups in this overview of how to integrate them into your classroom and curriculum.
Using PBS Resources to Support Social and Emotional Learning
Educators understand the need to connect with students' social and emotional needs more than ever. PBS can support these efforts in the classroom and at home.
Integrating On-Air PBS Programming Into Your Curriculum
Join WITF's Director of Education, Debbie Riek, along with Sue Voigt from Capital Area Intermediate Unit 15 as they explore the wealth of PBS resources available to connect to your curriculum.