Create Classroom Community Through Song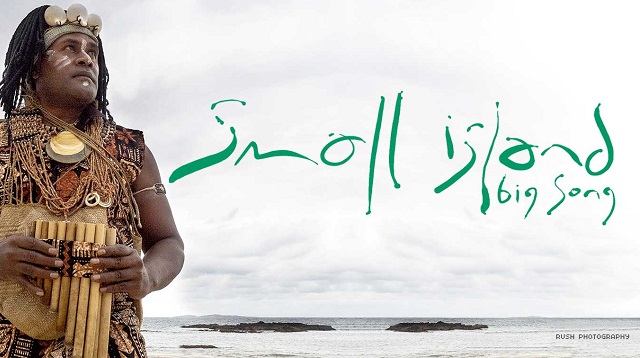 Tuesday, March 22, at 4:00 p.m.
Create and learn with artists from the touring production of Small Island Big Song, being presented by the Center for the Performing Arts at Penn State. Explore how songs and chants can be integrated into your classroom to support your community of students. Experience, through song, the themes of the performance—including the importance of indigenous knowledge, global musical influences, and a strong emphasis on the environment and the importance of caring for it.
By participating in this workshop each educator will receive a FREE ticket to the performance on April 7 as well as access to the film Small Island Big Song an Oceanic Songline to share with their students. Act 48 credit available.
A Conscious Education: Creating a Conscious Experience for Educators to Thrive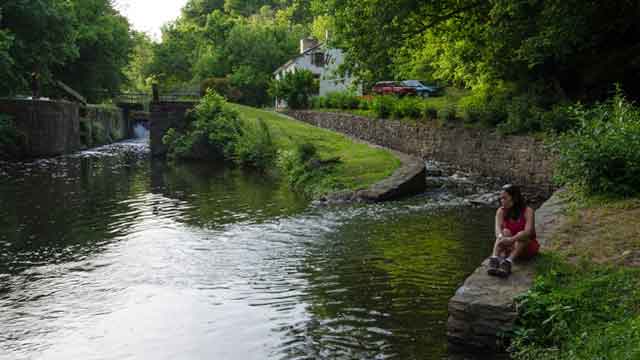 Wednesday, February 16, at 4:00 p.m.
In this workshop Conscious Coach and previous school teacher, Jennifer Hepton, will share insights on how uncertainty and trauma can affect our nervous system and how this awareness will allow you space for you to thrive as an educator. She will discuss what Conscious Education consists of, how recognizing your own triggers and emotions is essential in holding space for you to find ease and for your students to thrive. Jennifer will also discuss how important it is to understand the many faces of grief and how it can show up in our lives especially as we have had to pivot and adjust during a global pandemic.
This workshop will be a multi sensory experience where Jennifer will share visuals, invite you to journal and also share your insights. Participants will receive a FREE resource book to extend the workshop content into the classroom and personal practice. Act 48 credit available.
A Letter from Eva Mozes Kor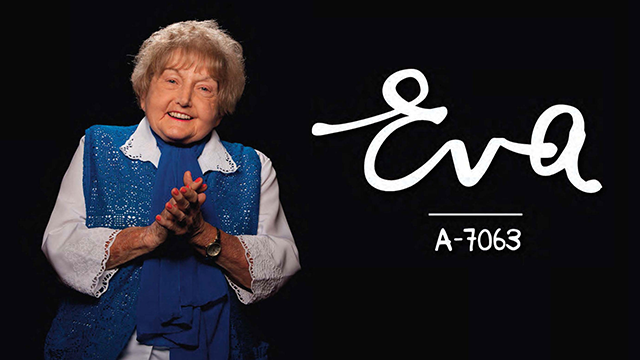 Eva Mozes Kor, a Holocaust survivor, became a global ambassador for peace, forgiveness and inclusiveness. Read this letter Eva Kor wrote emphasizing four overarching life lessons she encouraged everyone to live by.
Arbeit Macht Frei: Murals of the Holocaust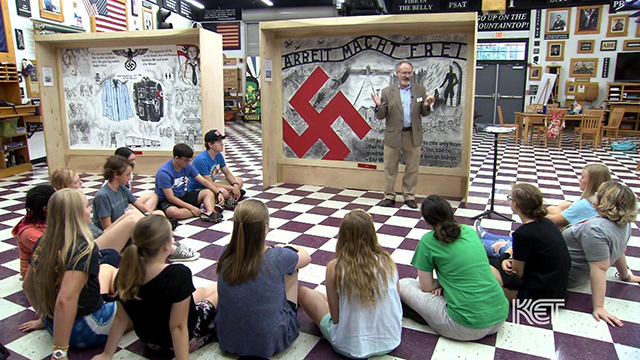 Jeff Jamner is the son of Holocaust survivors. In this video segment, Jamner examines a mural that depicts the entrance to a concentration camp with its sign, "Arbeit Macht Frei" (Work Makes You Free).
Eva: A-7063 Documentary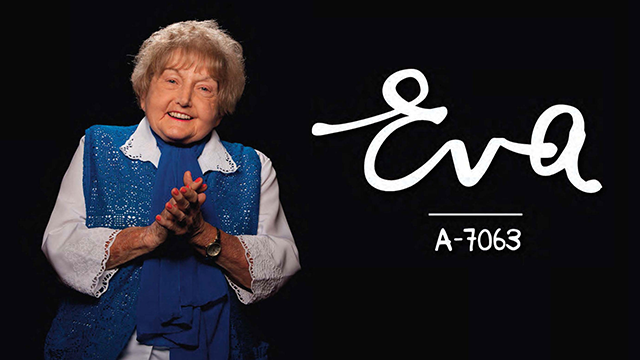 As a 10-year-old "Mengele Twin" at the Auschwitz concentration camp, Eva Kor suffered some of the worst of the Holocaust. At 50, she launched the biggest manhunt in history. At 60, she publicly forgave the Nazis, and into her 80s, she circled the globe to promote hope, healing and humanity.
Lemon Batteries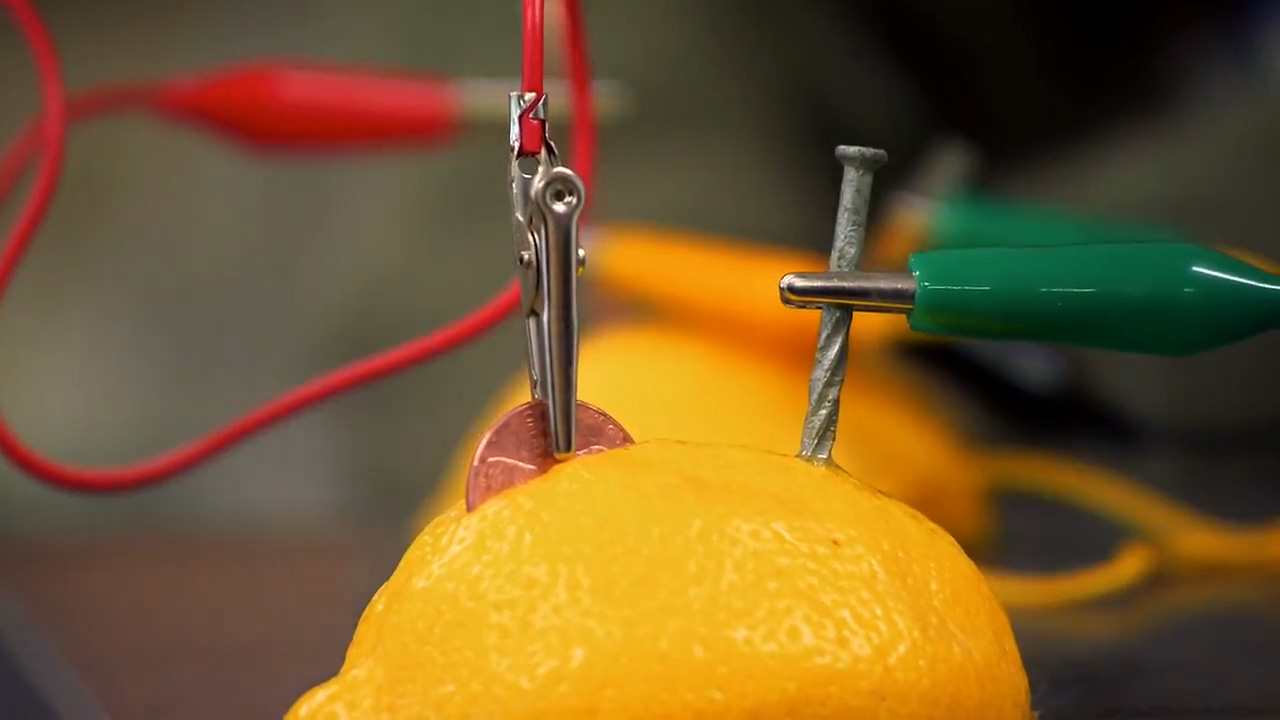 Batteries consist of two different metals suspended in an acidic solution. Is it possible to use the acid in a lemon to power a light? Try it to find out!
Pattern Power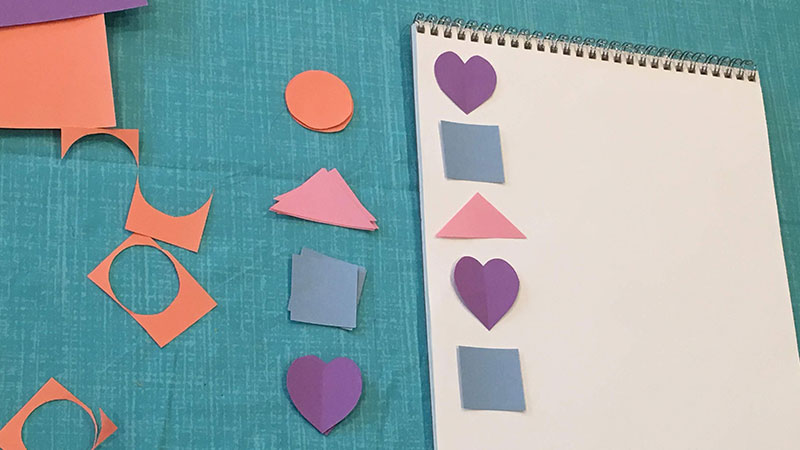 Practice creating and replicating patterns—an important math skill—with this simple activity.
Binary Bracelets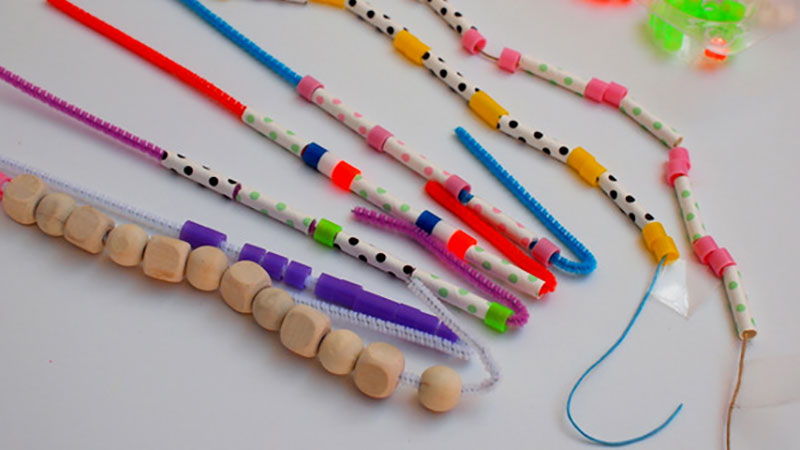 Using the binary code, you can show off your name on a really cool bracelet, keychain, or necklace.
Bouncing Egg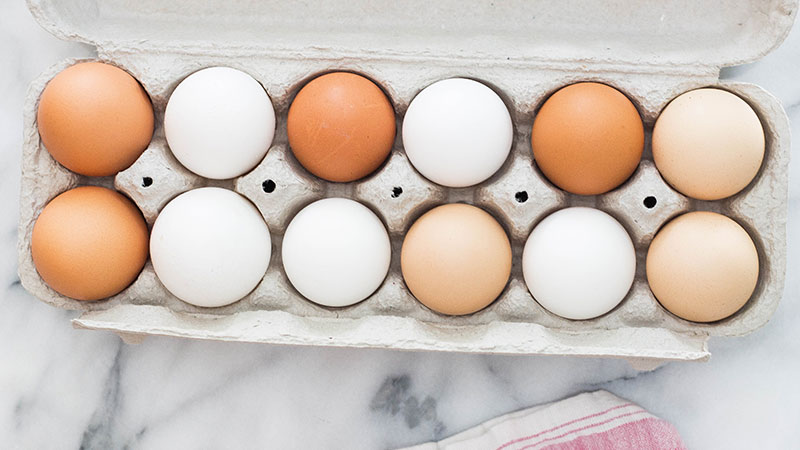 Change Everything You Think You Know About Eggs! We all know what happens when you drop a regular egg on the ground. When you add vinegar (and some patience), you end up with a bouncy, squishy object!
Smooshy Slime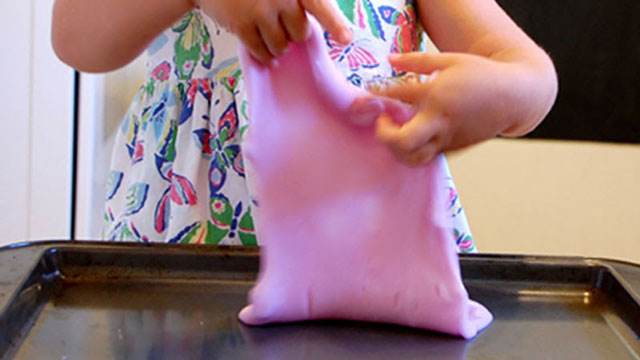 Who doesn't love slime? Slime is oobleck's ooey-gooey cousin, and another example of a non-Newtonian fluid. When all of the ingredients in this activity are combined you get a squishy substance that is fun to stretch, shape, and smoosh. Try it!
Dancing Raisins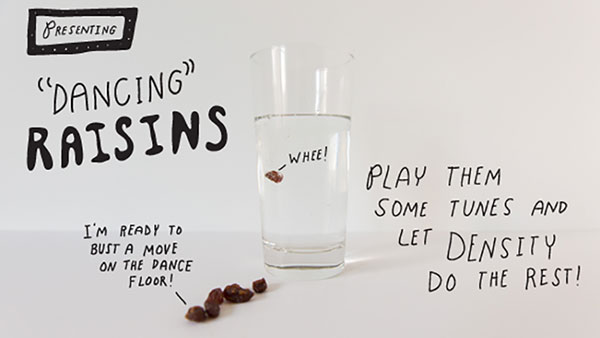 Learn about density and displacement with this fun, easy experiment. Turn on some tunes and discover how raisins bust a move!
The Life and Legacy of Martin Luther King, Jr.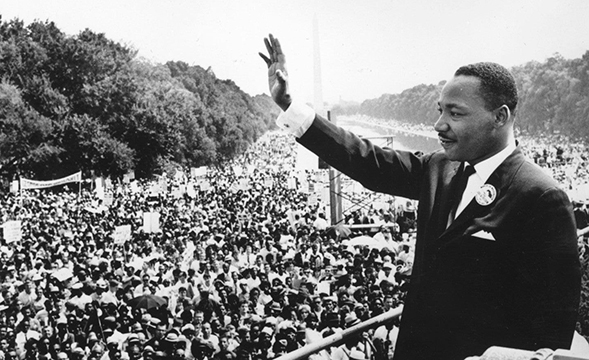 Historians reflect on the life and legacy of Dr. Martin Luther King Jr. and his role in the Civil Rights Movement.
Analyzing King's "I Have a Dream" Speech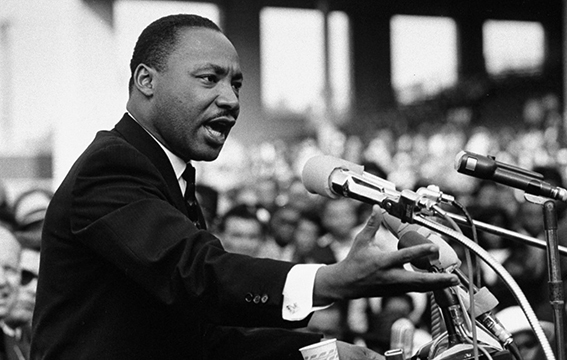 In this video, schoolchildren take turns reading from Martin Luther King, Jr.'s famous "I Have a Dream Speech" on the steps of the Lincoln Memorial.
Martin Luther King Day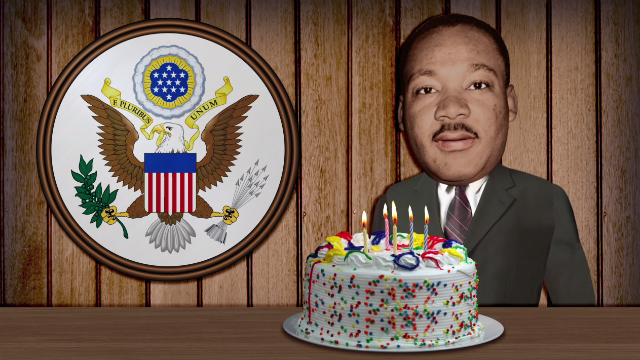 The third Monday in January is a national holiday observing the birthday of Martin Luther King Jr. Learn more about this leader of the civil rights movement and about how we honor him today.
Mission: Materials Science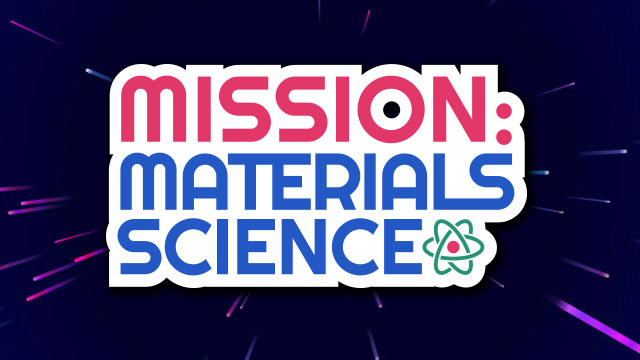 Materials science is the study of stuff— what it's made of, how it can be used, and even how it can be changed to create new kinds of stuff. Your mission? To learn how materials science and engineering is at work all around you.
Drawing Together: STEM Integration Through Drawing Experimentation
with Aaron Knochel and HUB-Robeson Galleries
Explore how drawing can bring STEAM concepts to life for your elementary students! This workshop will provide opportunities for all educators to become comfortable integrating mobile technologies and simple machines, allowing students to create their own expressive artwork.
Participants will receive a FREE resource to support their STEAM practice at home or in the classroom. Act 48 credit available.
Density Tower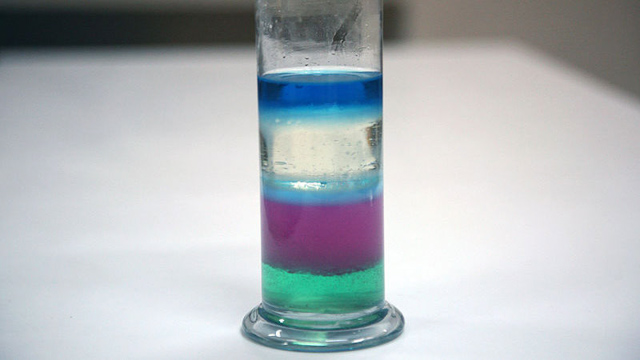 Make colorful layers using liquids of varying densities, then experiment to see which items sink or float to each layer!
https://science-u.org/experiments/density-tower.html
Magic Milk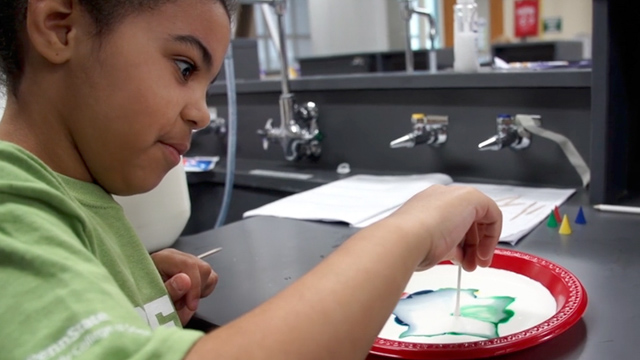 When food coloring and soap are added to whole milk, strange things happen. Will the same thing happen with kinds of milk that have different fat contents?
Food Inc.: The Dollar Menu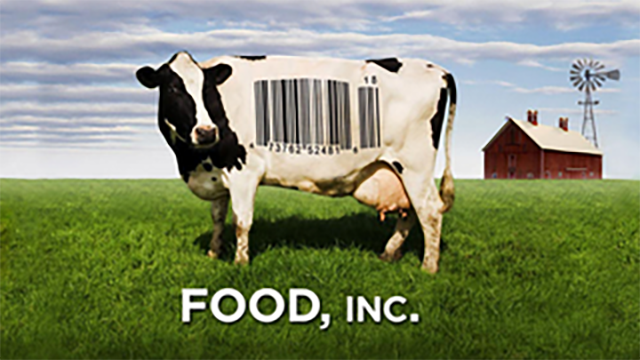 In Food, Inc., filmmaker Robert Kenner lifts the veil on our nation's food industry, exposing the highly mechanized underbelly that's been hidden from the American consumer. Watch and discuss the economics of the food industry and how the cost of foods affects their choices.
Are Viruses Germs?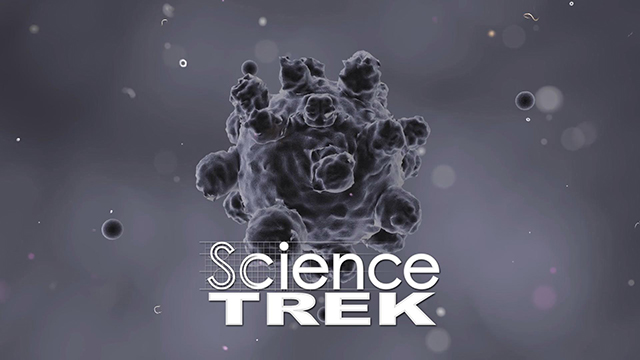 What we call "germs" are actually a group of different kinds of microscopic organisms. What are they and what steps should you take to protect yourself?
Washy Wash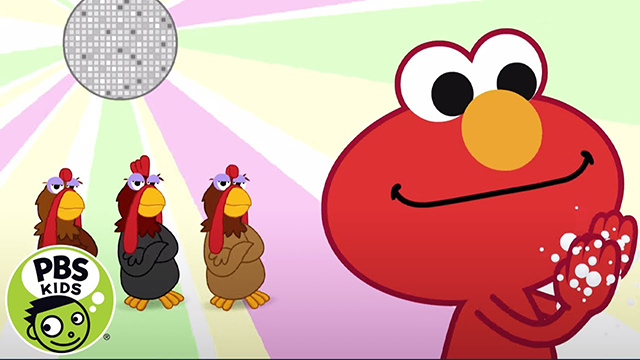 Hand washing keeps us healthy. Be like Elmo and make sure to wash your hands often for at least 20 seconds—just enough time to sing this song once!
Plaster Casting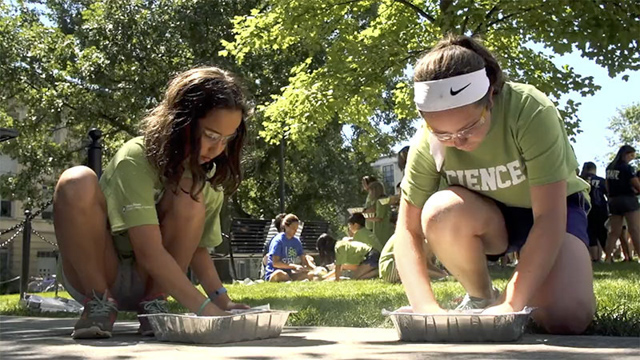 Can you make a plaster cast like a crime scene investigator? You can set up your own mystery, or just have fun making plaster casts out of anything you want!
Grow a Snowflake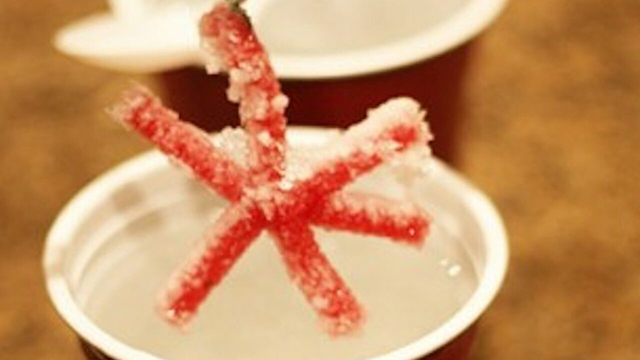 Create a snowflake shape out of pipe cleaners and then dip your design in a special liquid – over time crystals will form. 
Water Filter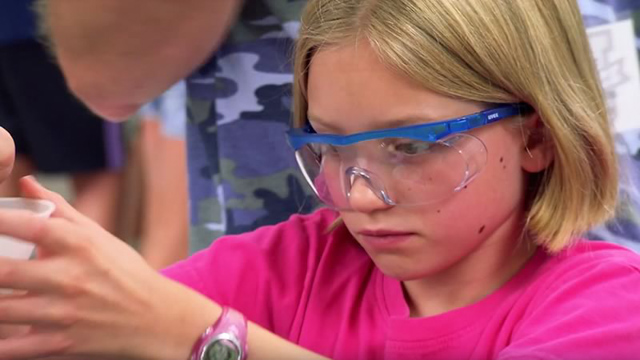 Make your own water filter! You'll be able to remove dirt, heavy metals and chemicals from filthy water! 
Marvelous Meringues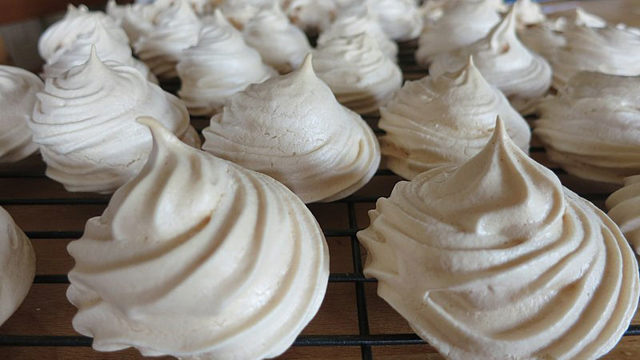 Beating egg whites causes an amazing change. When you add sugar and bake them, more changes happen! Go from slimy egg white to fluffy foam to a crunchy solid and delicious cookie while learning about the science behind the marvelous meringue. 
Popsicle Stick Explosion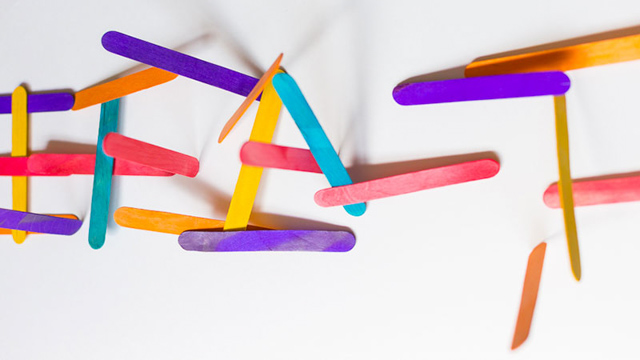 Woven popsicle sticks are a blend of art, math, science and just enough mischief to make it an engineering feat of awesomeness! 
Homemade Snow Globe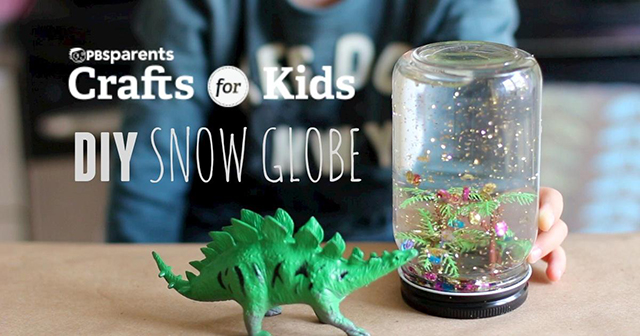 What does your winter wonderland look like? Bring it to life by creating your own snow globe. 
Button Snowflake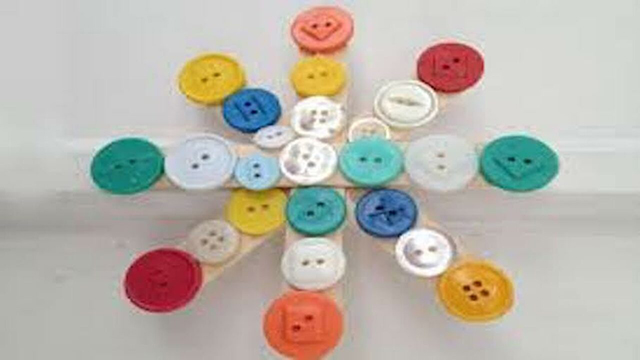 Add some kid-friendly decoration to your home with these ornaments made from popsicle sticks and colorful buttons.  
How Does Your Phone Send Emojis?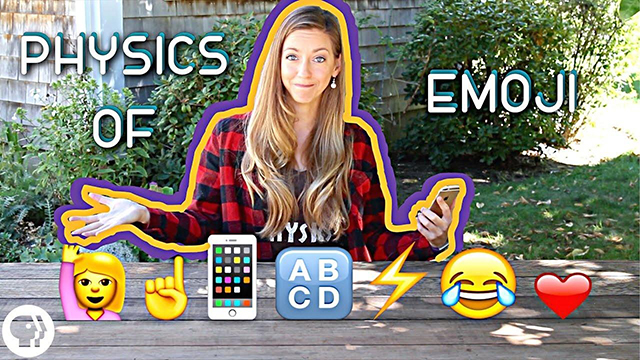 The physics of smartphones is a complicated and amazing mixture of engineering, physics, electronics and computer science. 
Dental Decay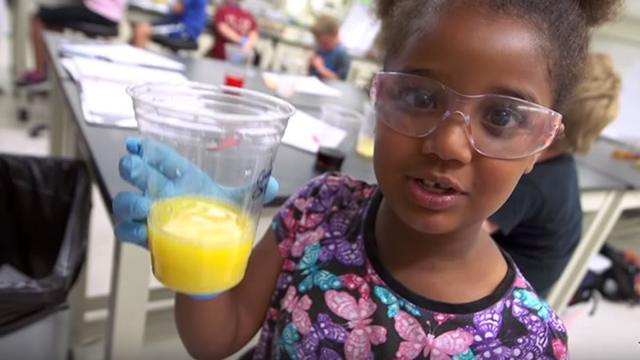 Tooth enamel is tough but can be eroded by acids in your mouth. Test the acid levels in your favorite drinks with pH test strips, then soak shark teeth or eggshells in each drink to see if the acid weakens tooth enamel. Try it! 
PBS Kids Scratch Jr.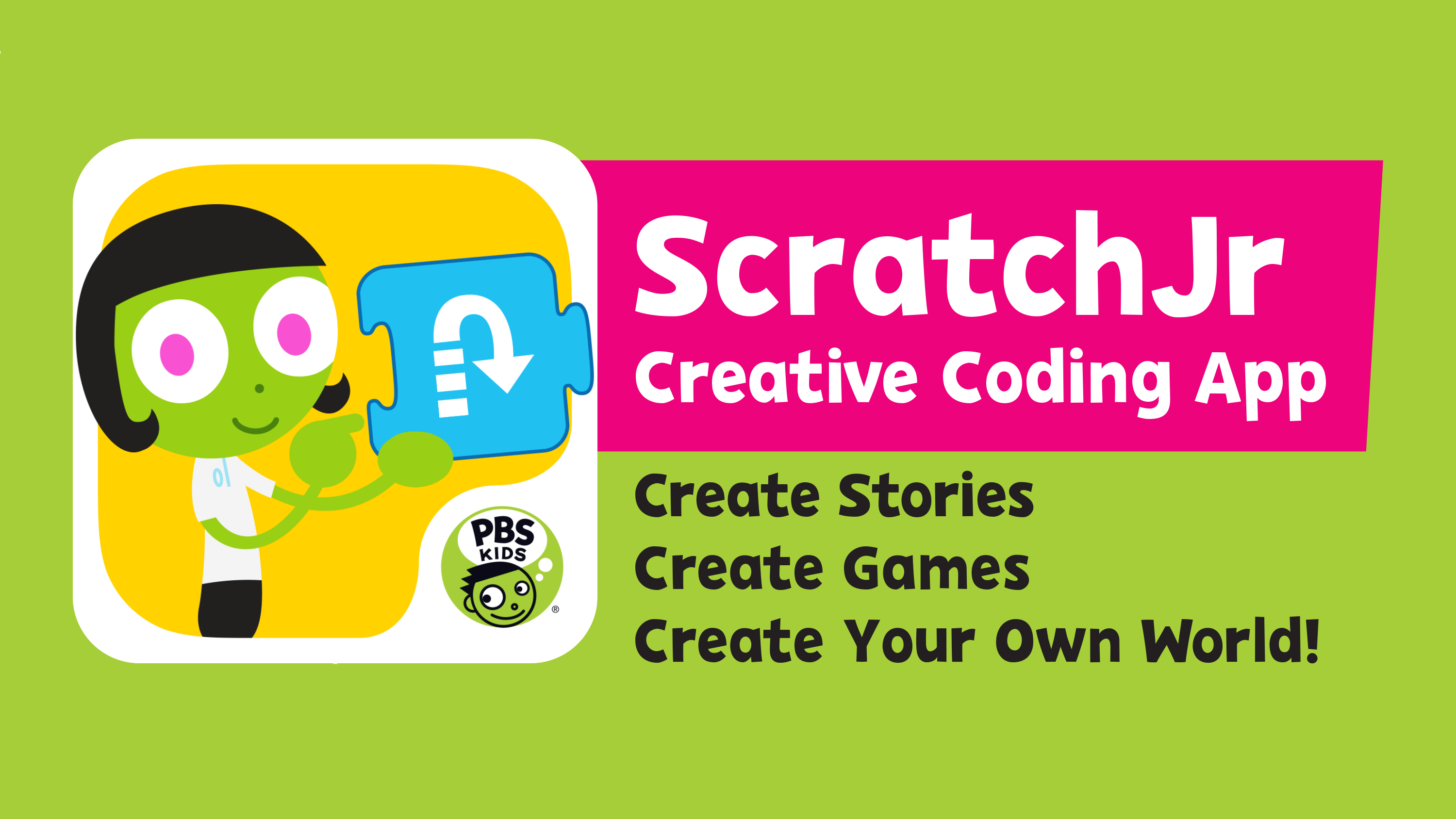 Is your child interested in coding? The @PBSKIDS ScratchJr app is a fun way to teach kids coding skills using the characters they love!  
Mentos Explosion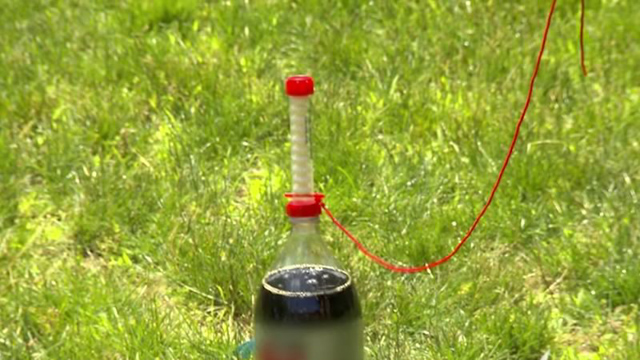 Are you ready for a blast? What is the secret behind the reaction between carbonated cola and little mint candies that makes such an explosion? Try it! 
Why Are There So Few Women in Computer Science?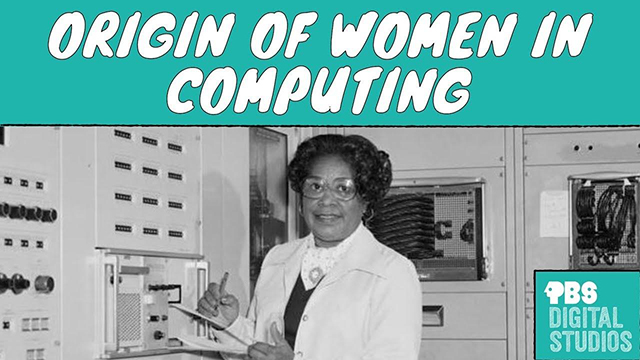 Today, we think of computer science as a field dominated by men, but women have a long and important history in the field. So what changed? 
Density Tower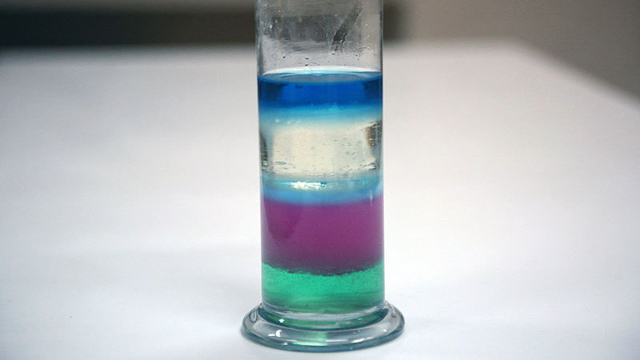 Make colorful layers using liquids of varying densities, then experiment to see which items sink or float to each layer! 
Supporting Language Development through Media
with Dr. Allison Henward and Yeojoo Yoon
Classroom play often involves popular media culture. Is the use of media helpful to children's development? Is it appropriate to bring media culture into the classroom? We will explore how to use media to support children's language development and the challenges and possibilities they bring.
Interfaith Holiday Traditions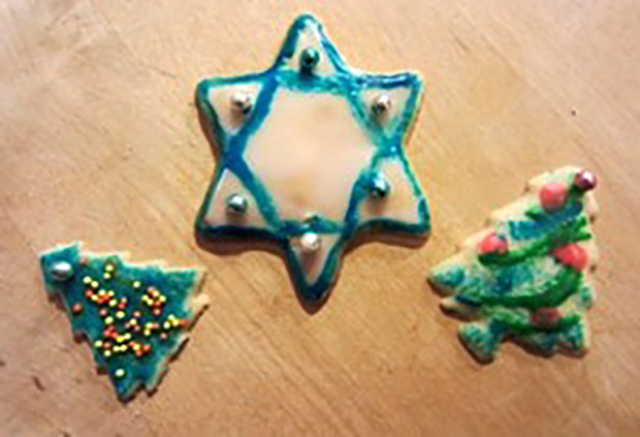 When Christmas and the first night of Hanukkah fall on the same day, interfaith families who observe both holidays face an unusual challenge. Learn how one interfaith family balances their two faiths. 
Magic Milk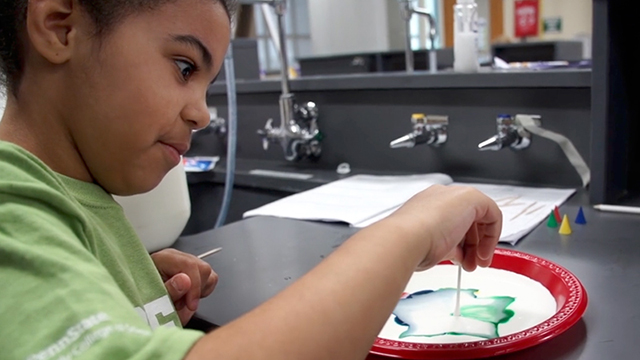 When food coloring and soap are added to whole milk, strange things happen. Will the same thing happen with kinds of milk that have different fat contents? 
Plaster Casting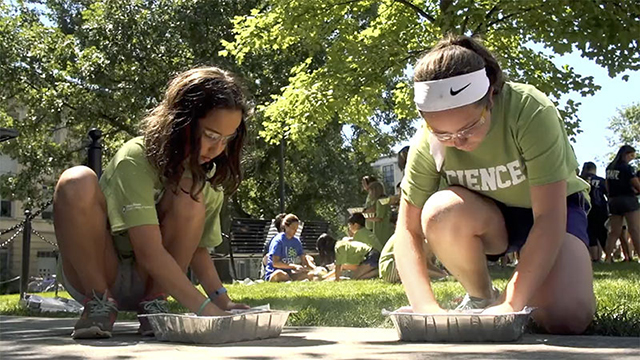 The Science-U campers used plaster casts to determine who left shoe prints at the scene of the crime. You can set up your own mystery, or just have fun making plaster casts out of anything you want! 
Wildlife Research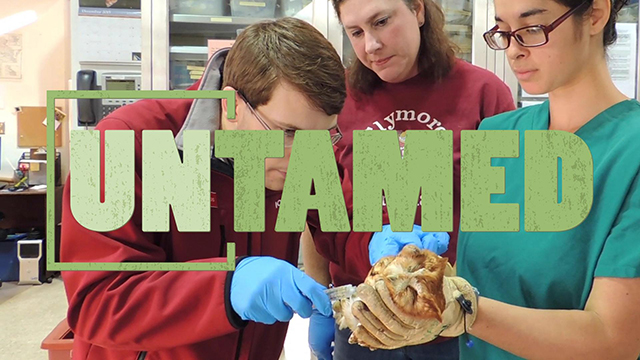 Learn how rehabilitators and veterinarians at the Wildlife Center of Virginia treat tens of thousands of wild animals each year and are often the first to notice trends that contribute valuable insights to overall wildlife health using data from the patients admitted to the center. 
"Get Out the Mad" Cookies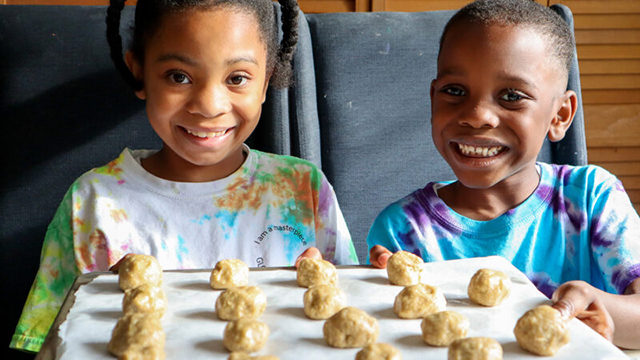 How do you talk with your children about managing their feelings? This activity encourages children to knead and pound dough as one way to talk through and deal with feelings like anger and frustration.  
Backwash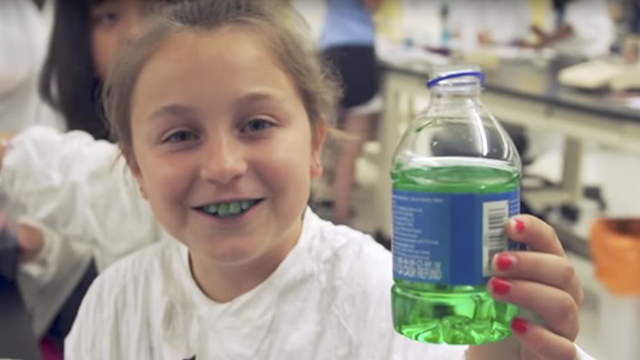 Does saliva really wash back into the milk carton from your mouth when you take a drink? Test it for yourself using powdered drink mix and see what happens! 
Holiday Food Traditions From Around the World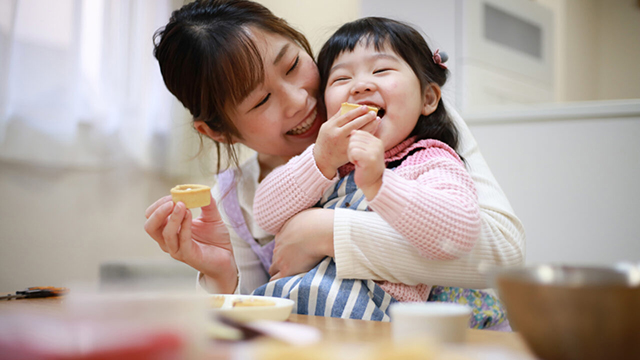 Many of us treasure our holiday food traditions, especially if there's a family recipe that has been passed down through the generations. Explore food traditions enjoyed by families around the world during the holidays, and maybe add some new recipes to your holiday traditions! 
Celebrate Japan's Oshogatsu Holiday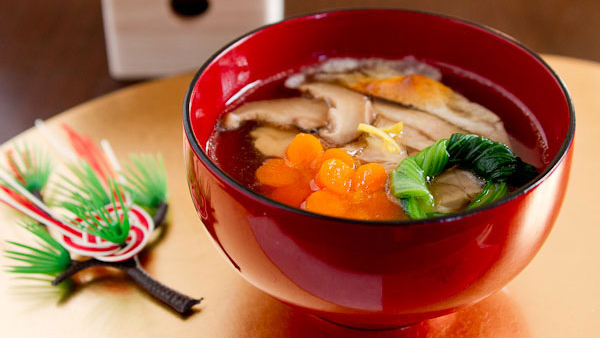 Oshogatsu is the most important holiday in Japan and is a celebration of the new year. Learn about the traditions of this special holiday, and how to make Ozoni, a one bowl soup that is a central dish of the holiday. 
Blood Pressure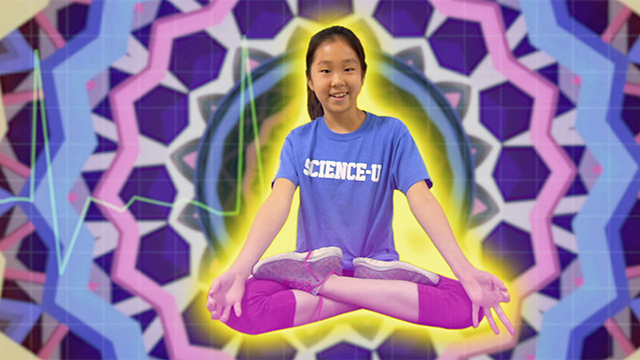 Do you know what your blood pressure is? Learn how to use a stethoscope and a blood pressure cuff to measure blood pressure. Can different activities change blood pressure? Gather a group of friends and try it! 
Molly's Winter Kitchen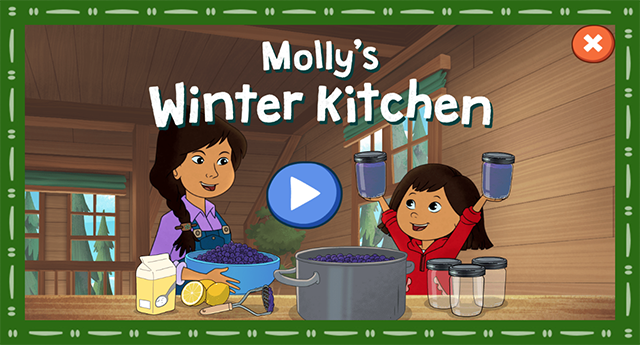 Help Molly of Denali and her mom prepare traditional foods to last all winter! Learn about different ways of preserving foods like moose stew and blueberry jam.  
Bath Fizzies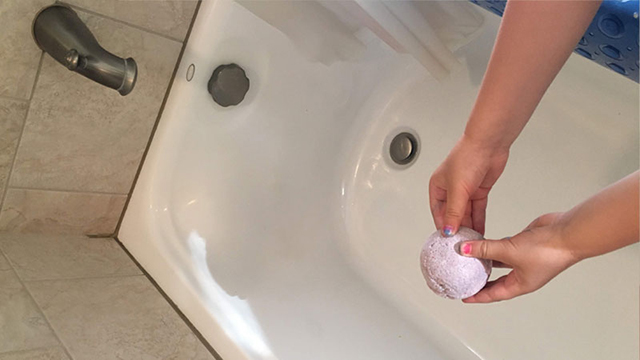 Splish splash, let's do science in the bath! Make your own bath fizzies and have fun exploring chemical reactions while taking a relaxing soak! 
Simple Sorting At Home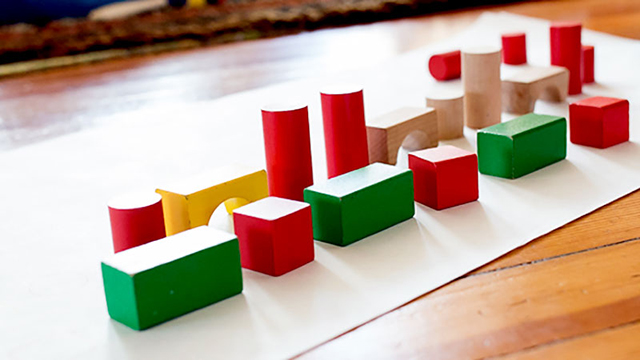 Use this activity to help your child notice differences, follow simple directions, sort objects, and identify patterns. These are important steps for data collection and analysis – which are a part of the scientific method! 
Make a Comet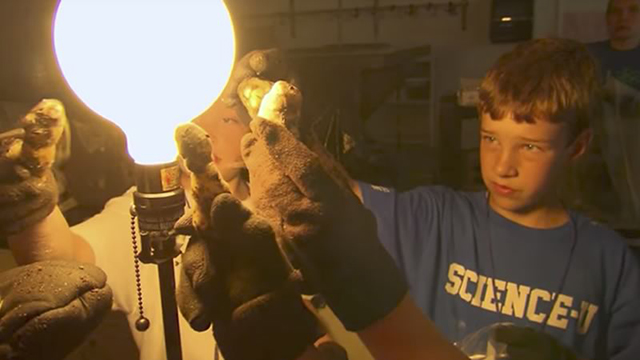 Some scientists call it a "dirty snowball in space". You can make your own comet with a mixture of materials that might surprise you. 
A History of Thanksgiving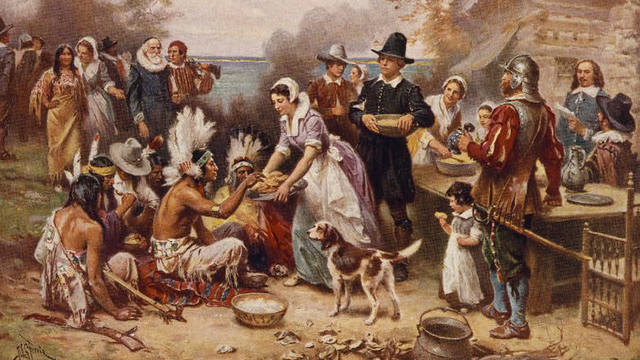 Take a trip through time and learn about the origins of Thanksgiving and from the original colonists through the proclamation of a national Thanksgiving holiday. 
Reaction Time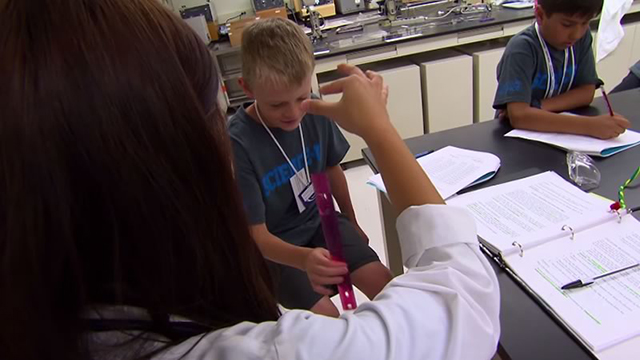 How fast does the eye send messages to the brain and the brain send messages to your hand muscles to react in time to catch a falling object? Find out using the ruler test!