Community Discussion: The Role of Black Churches 
WPSU invited members of the community to take part in a discussion about the roles Black churches play in central Pennsylvania. Will Price moderates a panel discussion and takes viewers questions and comments.
Moderator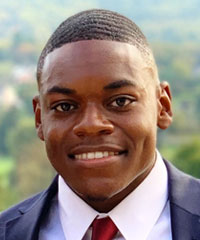 Will Price – Producer/Multimedia Specialist
Will is a Mid-Atlantic Emmy Award winning Producer from State College, PA. He is a 2017 graduate of the Donald P. Bellasario College of Communications at Penn State University. He is excited to be leading a discussion on a topic near and dear to his heart!
Panelists
Gary Abdullah, founding member of the Penn State Black Caucus and former president of the Forum on Black Affairs at Penn State
Barbara Farmer, a retired administrator from the State College Area School District and the district's first African American principal, and a former director of multicultural affairs for Penn State's College of Informational Sciences and Technology
Paul McReynolds, pastor of the Albright-Bethune/Park Forest Village United Methodist Church in State College
Sylvia Morris, the chaplaincy program director for Pennsylvania's State Correctional Institute at Smithfield, pastor of Payne Church in Huntingdon and pulpit assistant at Bethel AME Church in Mt. Union.
The panelists will discuss the documentary in three segments: the formation of the Black church in America after the abolition of slavery; the rise of the Black church and its importance to major historical events, and the relationship between the religious and secular worlds; and a look at the Black church today and its role in social justice and equality issues, and its relationship with millennials and Generation Z.
---
About The Black Church: This is Our Story, This is Our Song
In this intimate four-hour series from executive producer, host, and writer Henry Louis Gates, Jr., we trace how this came to be in the 400 year-old story of the Black church in America, all the way down to its bedrock role as the site of African American survival and endurance, grace and resilience, thriving and testifying, freedom and independence, solidarity and speaking truth to power.
---
Major corporate support for THE BLACK CHURCH: THIS IS OUR STORY, THIS IS OUR SONG is provided by Johnson & Johnson. Major support is also provided by Lilly Endowment, Inc., Ford Foundation, and by the Corporation for Public Broadcasting, PBS, and public television viewers.