WPSU Penn State Wins Three National Reporting Awards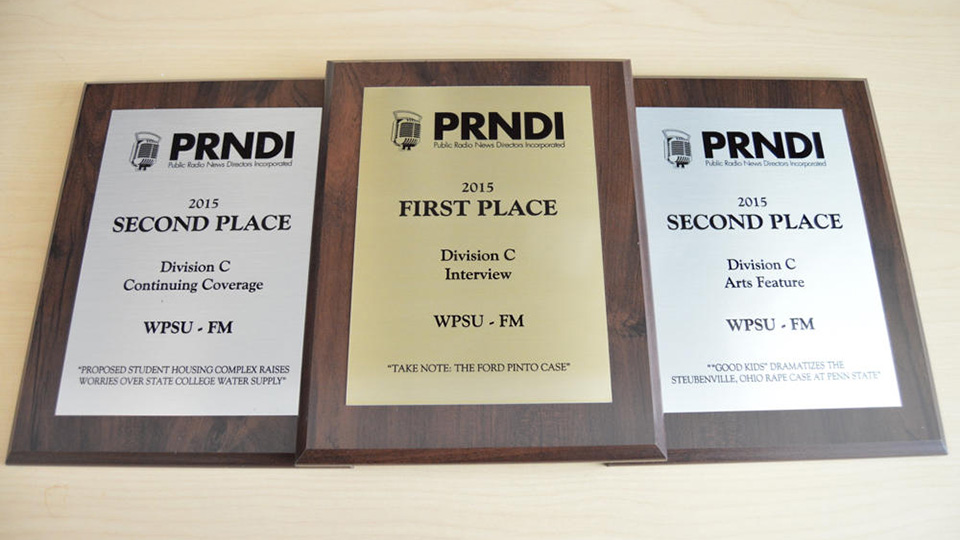 WPSU-FM won three national reporting awards from Public Radio News Directors, Inc., as well as two additional awards as collaborators. The awards recognized work done at stations and other outlets during calendar year 2015, which featured a variety of categories from Arts Reporting to Spot News. 72 organizations submitted more than 1,200 entries.
Interview – First prize
"Take Note: The Ford Pinto Case"
Patty Satalia, producer
Continuing Coverage – Second prize
"Proposed Student Housing Complex Raises Worries Over State College Water Supply"
Erin Cassidy Hendrick and Emily Reddy, producers
Arts Feature – Second prize
"'Good Kids' Dramatizes The Steubenville, Ohio Rape Case At Penn State"
Emily Reddy, producer
Nationally Edited News Feature – First Prize
"The Immigrants It Once Shut Out Bring New Life To Pennsylvania Town [Hazleton]"
Eleanor Klibanoff, producer
Series category – Second prize
"Underfunded Pensions in Pennsylvania"
Keystone Crossroads team
A full list of the PRNDI Awards is available here.