You Bet Your Garden with Mike McGrath
It's always garden time, but we especially love springtime in Pennsylvania! WPSU-FM invites you to meet Mike McGrath, gardening wizard and host of the radio show "You Bet Your Garden" to learn how to get your garden buzzing with excitement this spring – and support your local NPR station, WPSU-FM.
---
Dinner
Friday, April 7, 5:30 p.m.
Pollinators: The Superstars of Spring Gardening
The Atherton Hotel
125 S Atherton St.
State College, PA 16801
Bring on the bees! Learn how important these little workers are for a successful garden and fruit yield, how to attract them with the right plants, and how many kinds of pollinators are busily doing their work in and around our backyards. Mike will also take your questions and be available for photos and book autographs.
$75 per person, limited seating
SOLD OUT
---
Public Presentation
Saturday, April 8, 10:00 a.m.–noon
Pollinators, Planting, and Household Pests
The State Theatre
130 West College Ave.
State College, PA 16801
Join Mike for a light-hearted presentation and Q&A as he offers his experience and tips on fending off garden and household pests without the use of toxic chemicals, caring for lawns and landscapes without losing your mind, and growing without groaning in tough conditions like extreme heat, unending rain, and lousy soil.
$25 per person at the door
Online Ticket Sales are Closed
---
Proceeds from these events benefit your NPR station, WPSU-FM.
Tickets are non-refundable, but are transferrable.
---
About Mike McGrath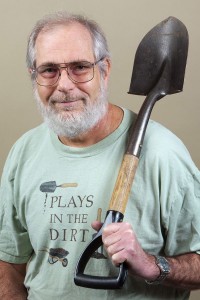 Mike McGrath is the host of the nationally syndicated Public Radio show You Bet Your Garden produced by WHYY in Philadelphia. The show airs Sundays, at 11:00 a.m., on WPSU-FM. Mike is a contributing editor and columnist for "Greenprints Magazine", and has also been the garden editor for WTOP News Radio since 1999.
Mike is the former editor-in-chief of "ORGANIC GARDENING" magazine from February 1991 through December 1997. During his time at "ORGANIC GARDENING," Mike's major exhibits won four consecutive "Best of Show" awards at the prestigious Philadelphia Flower Show (1994-1997).
From 1993 through 1997, Mike was the regular gardening expert on the weekend edition of The Today Show on NBC. He has also appeared on Nova, Good Morning America, CBS This Morning, PBS Healthweek, CNN, FOX, and as a regular contributor on the weekly PBS TV series Your Organic Garden and The Discovery Channel's Home Matters.
He has authored The Kitchen Garden Box (Quirk Publishing; 2009); Mike McGrath's Book of Compost (Sterling Publishers; 2006); Kitchen Garden A to Z (Abrams; 2004) and You Bet Your Tomatoes (Rodale; 2002, and reissued in a brand new edition by Plain White Press in 2009).
Somehow, Mike still manages to find time to grow tomatoes, garlic, raspberries, and peaches. He loves pinball and baseball; and will not eat lima beans no matter how much you pay him.