Celebrating 50 Years of Public Television!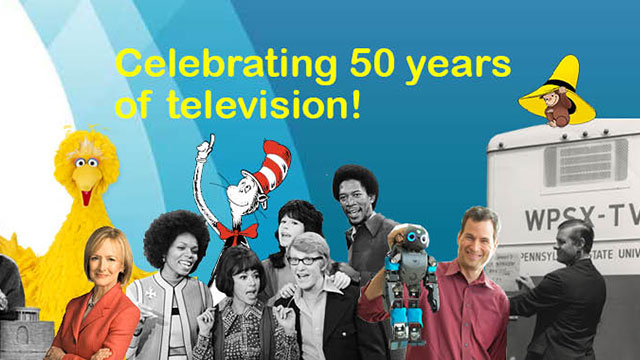 On March 1, 1965, at 10:00 in the morning, students from 125 elementary and secondary schools witnessed something revolutionary: television in the classroom. WPSX-TV signed on with 15 new educational programs, ranging from Saludos Amigos to Primary Concepts in Math, that would air each school day.
In June 1965, the station added evening educational and currentaffairs programming to fulfill the vision of extending the resources of Penn State to the entire community.
Through the years, WPSX-TV, renamed WPSU-TV in 2005, has grown into a national innovator, experimenting with media to deliver educational content to audiences in Central Pennsylvania and beyond. For example, the 2012 online course, beekeeping101.psu. edu, brought in registrants from every state and nearly every country across the globe.
The 2013 documentary, Water Blues, Green Solutions, is currently broadcast by PBS stations all over the US and internationally, and maintains a living library of online educational resources for secondary- and higher-education course use.
On March 1, 2015, WPSU celebrates many accomplishments and looks to our future — integrating technology across the media landscape and enhancing audience experiences.
You can watch even more WPSU and PBS programming on your computer and smartphone — all without leaving our new website.
You'll also be able to watch live programs simulcast on TV and online, and we'll give you even more ways to give feedback and join the conversation.
In April 2015, we invite you to try out two TV/online viewing parties when you'll have the opportunity to chat with producers and special guests.
With this expansion of services, we are proud to introduce a new name and a new look, WPSU Penn State. We've always been part of Penn State, and we want to continue our tradition of delivering university resources along with outstanding PBS programming to you.
WPSU Penn State thanks you, the community, our underwriters, and our university for supporting us and we look forward to the years to come with you by our side.