Chef John Folse
Chef John Folse was born in St. James Parish and learned early that the secrets of Cajun cooking lay in the unique ingredients of Louisiana's swamp floor pantry.
When Folse opened Lafitte's Landing Restaurant in 1978 in Donaldsonville, Louisiana, he set out to market his restaurant by taking "a taste of Louisiana" to Japan, Beijing, Hong Kong, Paris, and Moscow. In 1989, Folse was the first non-Italian chef to create the Vatican State Dinner in Rome. In the early nineties Folse opened multiple restaurants in London, Bogota. Taipei, and Seoul.
The international success of Lafitte's Landing Restaurant spawned the incorporation of several other Chef John Folse & Company properties from catering to custom-manufactured foods for restaurants, as well as the retail and food service industries. It is one of the few chef-owned food manufacturing companies in America.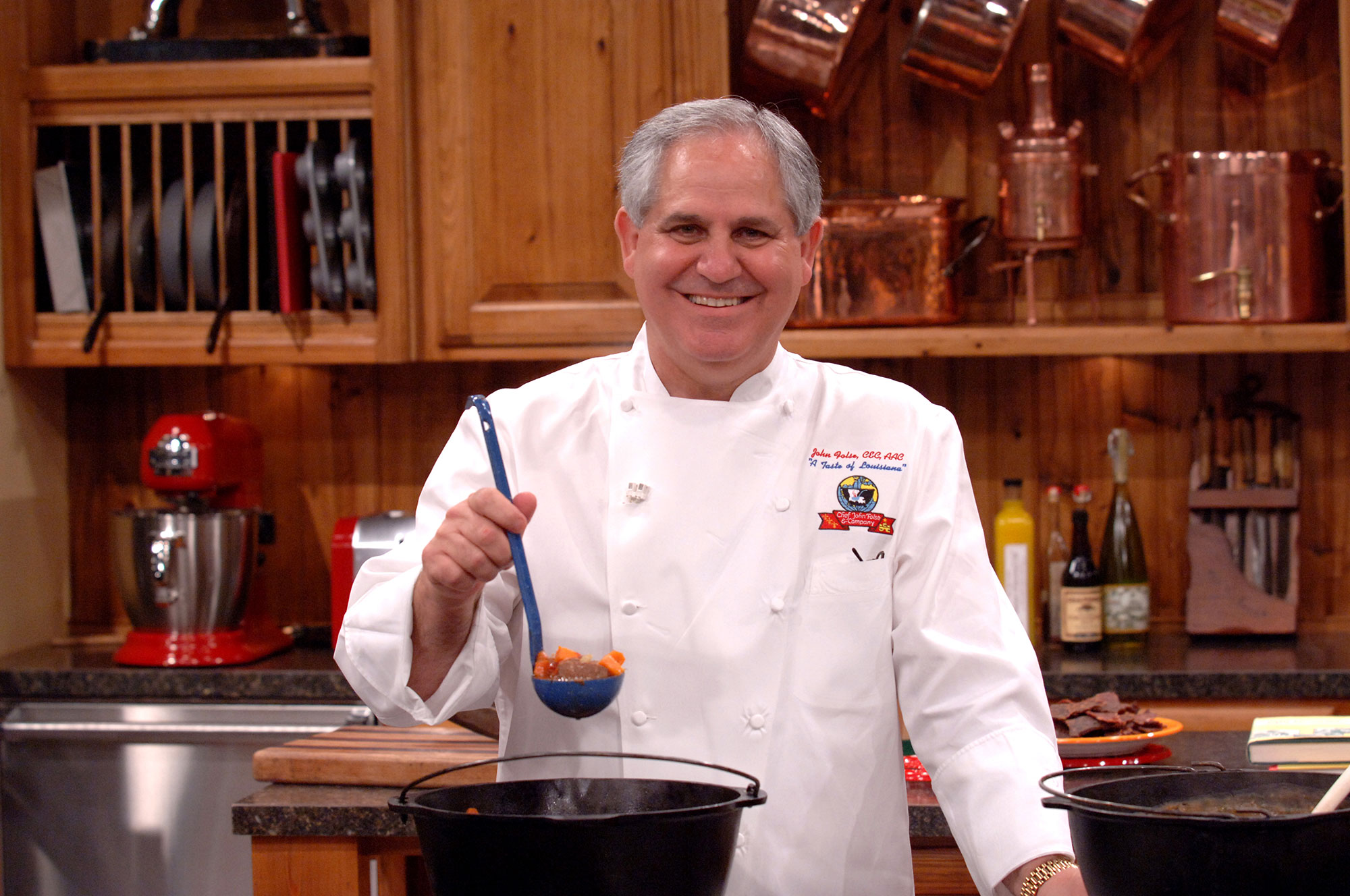 Chef John Folse & Company Publishing has produced six Cajun and Creole cookbooks since 1989, and is the host of two PBS series: A Taste of Louisiana with Chef John Folse & Company, and After the Hunt.
In 2012, Folse and Chef Rick Tramonto launched their first joint restaurant, Restaurant R'evolution, at the Royal Sonesta Hotel. R'evolution offers modern, imaginative reinterpretations of classic Cajun and Creole cuisine. In autumn 2014 Folse and Tramonto opened their second joint venture, Seafood R'evolution, in Ridgeland, MS.
Thirty years of culinary excellence later, Folse is still adding ingredients to the corporate gumbo he calls Chef John Folse & Company, which is as diverse as the Louisiana landscape, and he would not want it any other way.
During his career Chef Folse has been the National president of the American Culinary Federation, has received Honorary Doctorates from NSU and Baltimore International Culinary College, and has been honored in so many ways including "Louisiana's Culinary Ambassador to the World" by the Louisiana Legislature, the Louisiana Governor's Cultural Economic Development Arts Award, the American Culinary Federation named Folse the "National Chef of the Year." Currently, he serves as the Marketing Specialist and Chairman on the Louisiana Seafood Promotion & Marketing Board. He is also on the Sister Dulce Foundation Board.